CONTACT
Bonnie D Burt
Spring Adult Classes
Taught by Bonnie D Burt
-Drawing-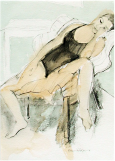 Drawing–with Bonnie D Burt
6 classes: Mondays, March 18–April 22 • 9:30 a.m.–12:30 p.m. • $150.00
Learning how to draw can be easy with a step by step, detailed, comprehensive instruction. You will deepen your understanding of form in space through various techniques, media and applications. We'll focus on basic drawing techniques with practice. Use the form at left to contact Bonnie with questions.