Fall 2020
ART CLASSES
Please consider making a donation to our school to help us weather this time. Any amount would be appreciated. We are a 501c3 non-profit.
Click Here for more information.
Winner of the 2019 Perry F. Kendig Award,
Arts & Cultural Organization
Welcome to The Studio School in Roanoke, Va. We are a non-profit art organization with a 30 year history of offering creative classes for all ages and all levels of expertise. Some of our "students" had an interest in art in their teens, then family and career took over—others are discovering art for the first time. Whatever your reason, we offer many classes to spark your imagination.
Our classes generally meet once a week for 8–10 weeks. Short, 1–3 session classes are also often available. We have 7 instructors with specialties in oil, acrylic, watercolor, oil pastel, encaustic, drawing and mixed media. All are seasoned professionals and are respected not just as artists, but as caring, articulate educators.
We are located on the upper level of Towers Shopping Center in Roanoke—inside the mall area just steps away from the Wildflower Restaurant. Studio School classes are informal, fun and inspiring and we invite you to "find your joy with us!"
To register for classes online and pay by credit card click on the

button.
SAFETY PRECAUTIONS:
We are taking every precaution to keep our students and instructors safe and will continue to monitor safety regulations. We ask that ALL students and instructors wear a mask in class and that each student bring a disposable trash bag to use in place of our cloth table mats.We will provide hand sanitizer, and gloves for those who would like to use them.Tables will be spread out for safe distancing. If it is necessary for a class to be postponed or cancelled, your instructor will contact you regarding refunds or credits.
See below to contact class instructors, either by clicking the Contact link or via phone.

All phone numbers are 540 area code
Judy Bates • Contact • 312-1273
Tracy Budd • Contact • 556-8770
Vera M. Dickerson • Contact • 992-6585
Jane Winders Frank • Contact • 580-6866
Patti Kapral • Contact • 815-2214
Robin Poteet • Contact • 384-5022
Gina Louthian-Stanley • Contact • 761-1414
To leave a voice mail, call 540-206-2209 and leave your name, phone # and a brief message. Someone will return your call ASAP.
Visit us on Facebook at thestudioschoolroanoke.
Weather and Class Cancellations
Cancellations are up to individual instructors, but in general, we follow the Roanoke City Schools weather policy. If city school classes are cancelled for the day, we cancel our day and evening classes. If City Schools operate on a one or two hour delay, morning classes may be cancelled—your instructor will contact you via email.

Be an Art Angel
If you have some time to give, we would be grateful for any help you can provide, be it helping to organize and hang our school shows, keeping our parking lot tidy, or helping with general cleaning now and then! Click Here to contact instructor, Judy Bates if you have a bit of time and effort you can donate.
The Studio School is an incorporated non-profit organization, (501.C.3) with programs partially funded through the Virginia Commission for the Arts. It does not discriminate on the basis of race, gender, ethnicity, and socioeconomic status, sexual orientation, political affiliation, ability or disability. Easel Society Contributors of $250 or more will receive end of the year summaries for their records.
Click Here for a printable Fall Registration Form (form will open in an new window or tab).
Classes for Children & Teens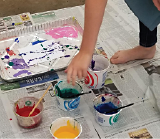 All About The Process–with Patti Kapral
Ages 5-9 • Tuesdays, September 15—November 3 • 5:00 p.m.—6:30 p.m. • $200
Picasso once said "all children are artists", and he was right! Children have an unbridled and innate sense of creativity that this class will tap into. Splatter, sponge, mold, collage, brush, oh the possibilities! All supplies are included in this fun art class that is all about the process! Click Here to contact Patti with questions.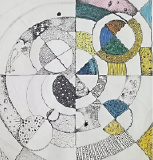 It's Elemental—with Patti Kapral
Ages 10-14 • Thursdays, September 10—October 29 • 5:00 p.m.—6:30 p.m. • $200
The Elements of Art are the building blocks all artists use to create dynamic and meaningful artworks. In this class, we will explore how line, shape, form, value, color, space, and texture are used in the visual language. All supplies are included in this 8 week class. Students will have a much greater understanding of how to create after this informative class! Click Here to contact Patti with questions.

Classes for Adults



Watercolor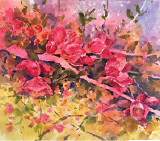 Getting Back in the Flow!–with Robin Poteet • Two 4-week sessions
SESSION 1: Wednesdays, September 9–30
Mornings 9:30—12:30 (FULL) or Afternoons: 1:00pm—4:00 • $120
SESSION 2: Wednesdays, October 7—28 • Mornings 9:30 a.m.—12:30 p.m. (FULL) or Afternoons 1:00 p.m.—4:00 p.m. • $120
$20 discount if you sign up for BOTH SESSIONS (8-weeks) • $220
Realizing that many of us are easing our way back into the public arena, Robin is offering a flexible schedule for fall. Classes are divided into TWO sessions of 4-classes each. Choose the session that interests you most… or sign up for a full 8-weeks! After each demo students will have ample time to paint any subject they'd like with individual assistance from Robin. Robin assures ample safety precautions and will limit each class to a maximum of 10 students. Register early to guarantee your spot!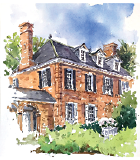 Topics for SESSION 1: (mornings and afternoons)
September 9: Modified pouring of backgrounds
September 16: Creating halos and the glow of candle flames
September 23 and 30: Woodlands and waterfalls—2 weeks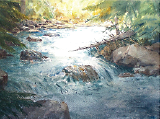 Topics for SESSION 2: (mornings and afternoons)
October 7: Dry Brush Techniques: metal and rust
October 14: Local landscapes (mountains and rural scenes)
October 21 and 28: House Portraits and Neighborhood scenes—2 weeks.
Click Here to contact Robin with questions.

Watermedia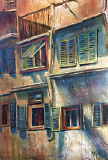 Painting Basics and Beyond … Using Color to your Advantage–with Tracy Budd
10 classes: Mondays, September 7–November 9 • 1:00 p.m.–4:00 p.m. • $280
Learn about acrylic painting in this "basic " and not so "basic" layering acrylic class. You will learn to execute your painting ideas from start to finish as Tracy discusses composition, color, value, texture and content. The fall class will dive into rich colors and how to use color effectively in your painting. Everyone welcome and class size limited. Come join the fun! Click Here to contact Tracy for a supply list!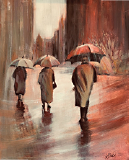 Open Studios and Critique–with Tracy Budd
10 classes: Tuesdays, September 8–November 10 • 9:30 a.m.–12:30 p.m. • $240
Join in on the fun on Monday mornings and paint with a fabulous group of people.Tracy will meet you right where you are in your work and help you problem solve your work with a " tool belt" of ideas to help. Lots of constructive help from a warm group of folks who all have one thing in common … PAINTING! Stay for the afternoon demo and class for a full day of fun!. Click Here to contact Tracy with questions.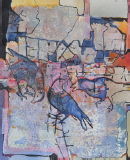 Painting–Independent Study–with Jane Winders Frank
8 classes: Thursdays, September 17–November 5 • 9:00 a.m.–Noon • $230
Renew your creativity and bring fresh ideas for new paintings or seek solutions for painting problems. Jane begins each class with information on new materials, art magazines, and art history to help generate ideas. She helps you set goals and work through the stages of your painting. Add mixed media as desired. Bring watermedia supplies to first class. Click Here to contact Jane with questions.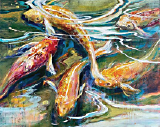 Light and Shadow: The Creation of Illusion–with Vera Dickerson
4 classes: SESSION 1
Tuesdays, September 22–October 13  FULL
same class Thursdays, September 24–October 15  FULL
4 classes: SESSION 2
Tuesdays, October 27– November 17  FULL
same class Thursdays, October 29–November 19 FULL
1:00 p.m–4:00 p.m.
$125 each OR Both sessions $240
How many times have you heard a non-artist exclaim "it looks just like the real thing!" That illusion of three dimensional space on a flat surface is achieved by observing and following the principles of light, shadow and cast shadow.
Our fall class will cover seeing and rendering the value range and related temperature color choices to help you create a 3-D look without becoming a slave to conformity. We begin with value drawing and move on to working in acrylics and other water media on treated w c paper or canvas.
First session will focus more on value changes, while second session carries that into color interpretation.
Demos and critiques. Click Here to contact Vera with questions.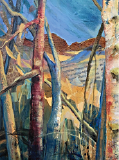 Acrylic and Collage Landscapes–with Tracy Budd
3 classes: Thursdays, October 29, November 5, November 12 • 9:30 a.m.–12:30 p.m. • $95
Acrylics are the perfect media for collage and collage is the perfect medium for shape based landscapes! We will make collage papers, stamp, glue and paint these fabulous, fun pieces. Layering transparently, papers will be used like paint layers! Lots of texture and painting surprises result. Fun will be had by all! Click Here to contact Tracy for a supply list.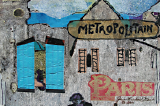 Tags, Tags, Tags–with Jane Winders Frank
Thursday, November 19 • 9:00 a.m.–Noon • $60
Use stamps, paint, collage, drawing to decorate paper tags to use as gift tags and as an element in mixed media pieces. Jane will provide the tags and lots of stamps to share. The tags will be various sizes. Fun to make as a group. Supply list emailed upon registration. Click Here to contact Jane with questions.