Fall 2021
ART CLASSES
Please consider making a donation to our school to help us weather this time. Any amount would be appreciated. We are a 501c3 non-profit.
Click Here for more information.
Winner of the 2019 Perry F. Kendig Award,
Arts & Cultural Organization
Welcome to The Studio School in Roanoke, Va. We are a non-profit art organization with a 30 year history of offering creative classes for all ages and all levels of expertise. Some of our "students" had an interest in art in their teens, then family and career took over—others are discovering art for the first time. Whatever your reason, we offer many classes to spark your imagination.
We are located on the upper level of Towers Shopping Center in Roanoke—inside the mall area just steps away from the Wildflower Restaurant. Studio School classes are informal, fun and inspiring and we invite you to "find your joy with us!"
To register for classes online and pay by credit card click on the

button.
SAFETY PRECAUTIONS
We are taking every precaution to keep our students and instructors safe and will continue to monitor safety regulations. We ask that ALL students and instructors wear a mask in class and that each student bring a disposable trash bag to use in place of our cloth table mats. We will provide hand sanitizer, and gloves for those who would like to use them. Tables will be spread out for safe distancing. If it is necessary for a class to be postponed or canceled, your instructor will contact you regarding refunds or credits.
See below to contact class instructors, either by clicking the Contact link or via phone.

All phone numbers are 540 area code
Judy Bates • Contact • 312-1273
Tracy Budd • Contact • 556-8770
Vera M. Dickerson • Contact • 992-6585
Jane Winders Frank • Contact • 580-6866
Patti Kapral • Contact • 815-2214
Robin Poteet • Contact • 384-5022
Gina Louthian-Stanley • Contact • 761-1414
To leave a voice mail, call 540-206-2209 and leave your name, phone # and a brief message. Someone will return your call ASAP.
Visit us on Facebook at thestudioschoolroanoke.
Weather and Class Cancellations
Cancellations are up to individual instructors, but in general, we follow the Roanoke City Schools weather policy. If city school classes are cancelled for the day, we cancel our day and evening classes. If City Schools operate on a one or two hour delay, morning classes may be cancelled—your instructor will contact you via email.

Be an Art Angel
If you have some time to give, we would be grateful for any help you can provide, be it helping to organize and hang our school shows, keeping our parking lot tidy, or helping with general cleaning now and then! Click Here to contact instructor, Judy Bates if you have a bit of time and effort you can donate.
The Studio School is an incorporated non-profit organization, (501.C.3) with programs partially funded through the Virginia Commission for the Arts. It does not discriminate on the basis of race, gender, ethnicity, and socioeconomic status, sexual orientation, political affiliation, ability or disability. Easel Society Contributors of $250 or more will receive end of the year summaries for their records.
Click Here for a printable Fall Registration Form (form will open in an new window or tab).
Classes for Children & Teens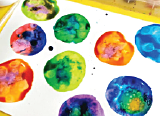 Wild Watercolor!—with Patti Kapral THIS CLASS IS FULL
Ages 5-9 • Tuesdays, September 14–October 19 • 5:00 p.m.–6:30 p.m. • $150 (all supplies included)
In this experiential class, we will explore, experiment, and create beautiful watercolor process artworks! What happens when you let yellow watercolor bleed into blue watercolor? What will we see if we add salt? All watercolor experiments will be saved so we can use them to create beautiful, expressive, frameable works of art. All supplies are included in this fun class. Space is limited to 8 students, so don't delay! Click Here to contact Patti with questions.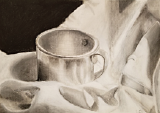 Exploring Drawing Media—with Patti Kapral
Ages 10-14 • 6 classes: Tuesdays, October 26–December 7 • 5:00 p.m.–6:30 p.m. • $150 (all supplies included)
In this class, students will learn the fundamentals of drawing such as contour, value, negative space, and form, using graphite, charcoal, and colored pencil. We will learn how to observe and draw what we see, and apply these new skills to our drawings. All supplies are included in this fun and informative class! Class is limited to 8 students, so don't delay! Click Here to contact Patti with questions.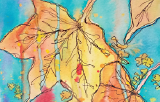 Falling Leaves—with Patti Kapral (watercolor) THIS CLASS IS FULL
Ages 8-14 • Saturday, November 6 • 10:00 a.m.–11:30 a.m. • $45 (all supplies included)
In this fun one day workshop, we will explore the different types of leaves, look at the changing colors, and create a watercolor painting inspired by the leaves we see falling all around us! All supplies are included, and space is limited! Click Here to contact Patti with questions.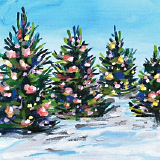 Holiday Canvas Painting—with Patti Kapral (acrylic)
Ages 8-14 • Saturday, December 11 • 10:00 a.m.–11:30 a.m. • $45 (all supplies included)
It's a happy holiday indeed as we paint a fun and whimsical holiday scene with acrylic paint on canvas. All supplies are included in this exciting one day workshop, and space is limited, so register early! Click Here to contact Patti with questions.

Classes for Adults



Drawing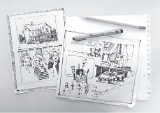 The Power of Sketching—with Robin Poteet THIS CLASS IS FULL
2 classes: Wednesdays, September 1 and 8 • 9:30 a.m.–12:30 p.m. • $75
This class isn't about talent or skill or creating realistic copies of your subjects. It isn't even about creating polished art to display or sell.
IT IS about the joy you'll get from letting your pen or pencil wander around a page, observing, experimenting, and having fun as you "interpret" everyday objects. IT IS about training your eye and mind to recognize shapes and values and the ways they connect with one another. IT IS a great way to expand your creativity, build confidence and gain drawing skills without feeling as though you are having to "work at it."
Bring any size or type of sketchbook to class. Through inspiring exercises, short demos, guidance, insight, techniques and time to explore, you'll begin to develop your personal drawing style. Robin will have an assortment of materials available in class to experiment with. Click Here to contact Robin for the additional things you'll need.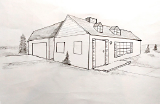 Perspective Drawing Class—with Kyle Keyser
3 classes: Fridays, October 8, 15, 22 • 1:00 p.m.–3:00 p.m. • $50
This class will introduce the students to basic perspective drawing in one and two point perspective and atmospheric perspective.
Students will learn to draw cubes at eye level, below eye level and above eye level. Students will also learn how to draw a room interior, house, and cityscape.
Students should bring a kneaded rubber eraser, 18 inch ruler and white drawing paper (min.11 x 18 inch in size) Minimum 3 students, Maximum 8 students.
Instructor Kyle Keyser is a graduate of Virginia Commonwealth University with a BFA in Fine Arts and a Masters degree from Bank Street College and Parson's School of Design in New York. You can email Kyle at kkeyser629@aol.com if you have questions.

Oil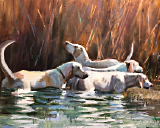 Animals in The Landscape—with Guest Artist Susan Bradbury
6 classes: Tuesdays, September 14–October 19 • 9:30 a.m.–12:30 p.m. • $180
Oil painters — if you love animals and want to paint landscapes with animals, this class is for you. You can bring your own photos or Susan will supply them for you. She will start with a demo and explain value, edges and color. You will learn technique, do exercises to improve brush strokes, utilize color theory and overall catch the luminosity of light and shadow on the animals. Supply list will be emailed upon registration. Class size is limited to ensure that everyone gets the attention they need. For questions, email Susan at mombradbury@gmail.com. To view examples of her work: www.susanmillerbradbury.com

Watercolor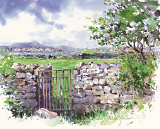 Watercolor Magic!—with Robin Poteet
7 classes: Wednesday Mornings, October 6–November 17 • 9:30 a.m.–12:30 p.m. •$200 THIS CLASS IS FULL—Space is still available in the afternoon class.
Also Offered: Wednesday Afternoons, Same dates, 1:00 p.m.–4:00 p.m. • $200
Watercolor has a magic of its own.. it moves and blends, and it teaches us patience and humility. When we learn to "step away from our paintings" watercolor rewards us with a fresh, effortless look that is difficult to achieve with any other media! Our first 3 weeks focus on guided exercises and provided photos so that we can explore classic techniques—then learn to be more daring and expressive. The remaining 4 weeks, students will work on their own subjects, with Robin's individual attention. Work large or small, detailed or loose. Robin's fall session will be filled with demos, discussions, slideshows and inspiration to help us rekindle our creative spirit! Click Here to contact Robin if you have questions.

Watermedia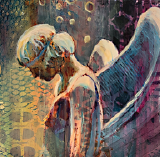 Open Studio and Critique—with Tracy Budd
8 classes: Mondays, September 13–November 1 • 9:30 a.m.–12:30 p.m. • $275
Do you need a creative outlet for your art? A class that will motivate you to share and paint? Join this popular class of critique and painting, where stimulating art conversation is had by all! Tracy will problem shoot your paintings and everyone learns from each other's art journeys. Week to week progress is made in our paintings, and it's fun to share our successes! Critiques weekly and painting time. Stay for Tracy's afternoon class for a full day of painting and art! All mediums are welcome! Click Here to contact Tracy with questions.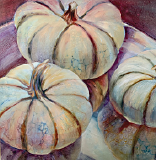 Painting Shadows With Everyday Objects…Painting Basics and Beyond—with Tracy Budd
8 classes: Mondays, September 13–November 1 • 1:00 p.m.–4:00 p.m. • $275
Ever wonder how to effectively capture light and paint shadows in your work? We will delve into the world of light and shadow in these paintings of simple objects. Students will learn the different types of shadow and light and how to best represent it in our paintings. Working transparently and with opaques in these layered acrylic paintings, we will learn the subtle changes of shadow and light. Weekly demos and critiques. Come join the fun! All levels welcome. Click Here to contact Tracy for a supply list.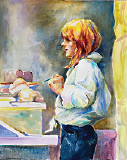 Express Your Personal Vision—with Vera Dickerson
8 classes: Tuesdays, September 28–November 16 • 1:00 p.m.–4:00 p.m. • $275 THIS CLASS IS FULL
Same class Thursdays, September 30–November 18 • 1:00 p.m.–4:00 p.m. • $275 THIS CLASS IS FULL
People say they want a "style". That is the essence of who we are, how we see and how we translate our vision into paint. It is developed by practicing our craft. We will look at a variety of contemporary artists, their choices, exaggerations, eliminations and what results, so that each of us has a better understanding of the artistic self. This is an opportunity to add to your knowledge of contemporary art, experiment in a supportive environment and grow in your own work. Subject matter your choice…acrylics and other water media. Demos and Critiques. Click Here to contact Vera with questions.
Mixed Media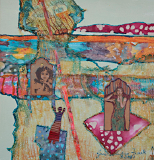 Painting–Independent Study—with Jane Winders Frank
8 classes: Thursdays, September 16–November 4 • 9:00 a.m.–12:00 p.m. • $250
Give your creativity a boost, bring fresh ideas for new paintings or find solutions for painting problems. Jane begins each class with information about new materials, art magazines, and art history to help generate ideas. She helps you set goals and work through the stages of your painting. Mixed media can be added to your work as desired. Bring watermedia supplies to first class. Click Here to contact Jane with questions.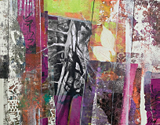 Creative Collage and Acrylics, Still Life, Light and Shadows—with Tracy Budd
3 classes: Monday through Wednesday, December 6–8 • 10:00 a.m.–2:00 p.m. • $150
Collage and watermedia collide in a fun class of paper making, cutting, tearing, gluing and painting! Acrylics are the best medium for collage as we can create multiple layers that dry fast! We will make papers, stencil, stamp and paint on this creative journey. Collage is great for developing our design capabilities and our focus will be depicting objects , light and shadow in paint and papers! Come join the fun! Class size is limited. Click Here to contact Tracy for a supply list.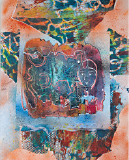 Wrap it Up—with Jane Winders Frank
Thursday, November 18 • 9:00 a.m.–12:00 p.m. • $45
We will decorate lightweight papers with stamps and stencils, and paints to create unique gift wrap for the holidays. Your friends and family will be so impressed! Supply list emailed upon registration. Click Here to contact Jane with questions.

Printmaking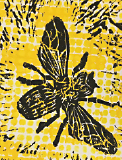 Printmaking Lino-Cut (Part 1)—with Gina Louthian-Stanley
2 classes: Mondays, September 27–October 4 • 6:00 p.m.–8:00 p.m. • $130 (all supplies included)
Using relief printing techniques, learn how to create a linocut relief print by creating an initial drawing (or bring a high contrast image 4" x 6"), transferring the image, and carving it onto a linoleum block to be printed. Relief printing is the process of carving away material on a flat surface. The remaining surface is then "rolled" with ink and pressed onto paper to make a final print. Students will get two blocks to carve for creating their own hand carved linocut relief print, 10 sheets of printing paper, two blank greeting cards with envelopes, classroom use of inks and use of tools. More paper and lino blocks available for purchase. (Part 2 will be in the Winter Session, featuring Geli plate Printing) Must have 4 for the class to make. Click Here to contact Gina with questions.

Art Business Skills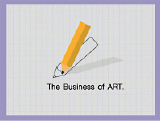 To Market To Market–Promotional Strategies for Artists—with Gina Louthian-Stanley
1 class: November 13 • 10:00 a.m.–3:30 p.m. • $80
Ever wonder how to write the best Artists Statement? How to get the best images to send for Jurying? Set goals in the studio and for shows? Time management? Organize?
This class will dive into these and other business aspects of art to offer ways of marketing your own art. Please bring a notebook and pen. Gina will provide her personal © worksheets in a folio for you to keep for personal use only. There will be a lunch break. Click Here to contact Gina with questions.

2022 Workshop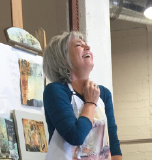 Contemporary Approaches for Self Expression—with Joan Fullerton
May 24—27, 2022 • $450
Paint as you like and live happy! Dancing with the unknown, exploring inner and outer worlds, laughing and playing, learning to deal with self-doubt and the frustrations of the creative process…expressing yourself and discovering your unique voice…it's challenging, and it's oh so fun!
Easel Society members will be able to register beginning in December, 2021 and all others can register starting in January, 2022.
Registration with a $200 deposit payable to The Studio School is sent to:
Jane Winders Frank
3040 McVitty Forest Dr.
Unit 207
Roanoke, VA, 24018
With the balance ($250) due in April, 2022. Inquiries to Jane at papermker@aol.com.