Fall 2022
ART CLASSES
Please consider making a donation to our school to help us weather this time. Any amount would be appreciated. We are a 501c3 non-profit.
Click Here for more information.
Winner of the 2019 Perry F. Kendig Award,
Arts & Cultural Organization
We are a non-profit art organization with a 30 year history of offering creative classes for all ages and all levels of experience. Our instructors are among the area's best known artists and they offer a wealth of knowledge, guidance and inspiration.
Our classes range from one- or two-day sessions to eight weeks and beyond. You'll find offerings for children, teens and adults in media such as drawing, watercolor, acrylic, encaustic, mixed media, and more.
We are located on the upper level of Towers Shopping Center in Roanoke — inside the mall area, just steps away from the Wildflower Restaurant. Whether you are discovering art for the first time or are continuing your artistic journey, Studio School classes provide an informal, fun and inspiring way to explore the joy of creativity.
To register for classes online and pay by credit card click on the

button.
SAFETY PRECAUTIONS
At the time this brochure is being produced, we are not requiring masks but encourage everyone to be respectful of their fellow classmates safety. Please bring a disposable trash bag to use in place of our cloth table mats. As we know, things can change quickly, so your instructor will monitor current health conditions and will be in touch with you by email prior to your first class.Weather is another factor and your instructor will be in touch with you the day/evening before a scheduled class if it appears there may be an issue.
See below to contact class instructors, either by clicking the Contact link or via phone.

All phone numbers are 540 area code
Tracy Budd • Contact • 556-8770
Vera M. Dickerson • Contact • 204-1914
Jane Winders Frank • Contact • 580-6866
Patti Kapral • Contact • 815-2214
Robin Poteet • Contact • 384-5022
Gina Louthian-Stanley • Contact • 761-1414
Visit us on Facebook at thestudioschoolroanoke.
Weather and Class Cancellations
Cancellations are up to individual instructors, but in general, we follow the Roanoke City Schools weather policy. If city school classes are cancelled for the day, we cancel our day and evening classes. If City Schools operate on a one or two hour delay, morning classes may be cancelled—your instructor will contact you via email.

Be an Art Angel
If you have some time to give, we would be grateful for any help you can provide, be it helping to organize and hang our school shows, keeping our parking lot tidy, or helping with general cleaning now and then! Click Here to contact instructor, Patti Kapral if you have a bit of time and effort you can donate.
The Studio School is an incorporated non-profit organization, (501.C.3) with programs partially funded through the Virginia Commission for the Arts. It does not discriminate on the basis of race, gender, ethnicity, and socioeconomic status, sexual orientation, political affiliation, ability or disability. Easel Society Contributors of $250 or more will receive end of the year summaries for their records.
Click Here for a printable Fall Registration Form (form will open in an new window or tab).
Classes for Children & Teens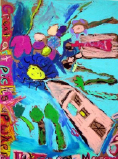 Channeling Chagal—with Patti Kapral This Class Is Full
Ages 5-9 • Tuesdays, September 13–October 18 (six classes) • 5:00 p.m.–6:30 p.m. • $150 (all supplies included)
In this class, we will learn about the artist Marc Chagal and his surreal, dreamlike paintings such as "I and The Village". We will then create art works inspired by his use of color and dreamlike imagery. Using watercolor and oil pastels, the students will discover fun and unorthodox ways of creating powerful compositions. All supplies for this class are included in the class price! Space is limited in this fun, process oriented art class, so register early! Click Here to contact Patti with questions.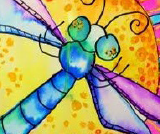 Zooming In On Bugs—with Patti Kapral
Ages 10-14 • Tuesdays, October 25–December 6 • 5:00 p.m.–6:30 p.m. • $150 (all supplies included)
Kids love bugs! This class will "zoom in" on their fascination with all types of creepy crawlies and use them to create an absolutely gorgeous oil pastel of their favorite bug zoomed in and up close! We will also talk about what make a bug so interesting, and discuss whether a bug needs to be painted in realistic color or arbitrary color. All suppliers are included in this exciting class, and space is limited, so register early! Click Here to contact Patti with questions.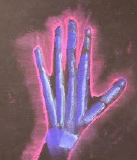 Spooky Skeletons—with Patti Kapral (oil pastel)
Ages 8-14 • Saturday, October 29 • 10:00 a.m.–11:30 a.m. • $45 (all supplies included)
Just in time for the spooky season of Halloween, we will make an x-ray styled soft pastel drawing of our hand, learning about all the bones in you hand and wrist! (there are 27 bones!) This is sure to be a spooky good time, with Halloween music and some other treats for the students! All supplies are included and space is limited, so register early! Click Here to contact Patti with questions.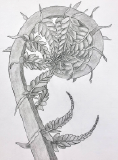 Basic Drawing for Children—with Gina Louthian-Stanley
Ages 13 and up • Mondays, November 14 & 21, December 5 & 12 • 5:30 p.m.—7:00 p.m. • $150
In this 4-week class, we will explore exercises and very basic fundamentals and techniques of drawing, encouraging us how to 'see'. We will begin with contour and gesture drawings, value studies, form, negative and positive space, and perspective (if time allows). Some time outside of class will be needed.
Students will need to bring an 11" x 14" drawing sketchbook.The Canson or Strathmore 300 to 400 series is preferred, a set of drawing pencils (H, B, 2B, 4B, 2H, 4H), a white hard rubber or kneaded eraser, paper stumps (tortillions), a ruler, and a pencil sharpener that holds shavings. Gina will supply other items as needed and a folio of notes. Click Here to contact Gina with questions and to confirm registration. Needs 4 to make, limit 10.

Santa Canvas Painting—with Patti Kapral
Ages 5-9 • Saturday, December 3 • 10:00 a.m.–11:30 a.m. • $45 (all supplies included)
The saying in my house is "If you don't believe, you don't receive"—and my kiddos are all grown up! Everyone loves Santa, and so in this class we will learn how to draw a cute Santa portrait and then paint him on canvas. There will be holiday music and treats for all the students as well. All supplies are included in this jolly good workshop, and space is limited so register early! Click Here to contact Patti with questions.

Classes for Adults



Oil
Oil Painting Basics—with guest artist, Brett LaGue
8 classes: Fridays, September 16–Nov. 4 • 9:00 a.m.–Noon • $275 (plus a $10 model fee)
Explore your creative side in oils, the traditional and flexible medium! Work quickly or work slowly, thick or thin — whatever works best for you. With lots of instruction, plus plenty of demos, learn the basics that will get you started on your way.You'll soon understand tools, color mixing, composition, glazing techniques, direct painting and so much more.Then, we'll apply that newly found knowledge to your reference photos or supplied images. In addition, class will also include a still life painting and finish with a live portrait painting! If you've never painted before, oil painting is a great place to start. Email Brett for the suggested materials list–brett@brettlague.com

Watercolor
Exploring Watercolor Styles—with Robin Poteet
7 classes: Wednesdays, September 28–November 16 (No Class October 12) • 9:30 a.m.–12:30 p.m. • $245
The spring class was so much fun, we're going to do it again with a different selection of master artists! Robin has chosen four well-known painters with a distinctive styes—from traditional to abstract. We will examine their techniques, composition and color choices and then complete paintings based on their style.This series is a great way to expand your creative thinking, discover new subjects, and master new techniques and materials. It will also help you become a more dynamic, confident painter… not to mention having fun in the process! Click Here to contact Robin with questions.

Continuing Watercolor—with Robin Poteet
7 classes: Wednesdays, September 28–November 16 (No Class October 12) • 1:00 p.m.–4:00 p.m. • $230
This class is for those that embrace the pure, fluid, and occasionally unpredictable nature of watercolor. By combining
technique, knowledge and illusion, we focus on how to work WITH this wonderful media rather than try to control it. Robin encourages you to bring out the best in YOUR painting style and offers guidance through demos, discussion and one-on-one attention. This session, students have requested some specific topics, so Robin will definitely include a couple of weeks of painting glass as well as night scenes. Click Here to contact Robin with questions.

Watermedia
Open Studios and Critique—with Tracy Budd
8 classes: Mondays, September 12 – October 31 • 9:30 a.m.–12:30 p.m. • $250
Weekly critique is a valuable tool when working on our projects. Jump into Fall with the structure we all need. In this class we share ideas and Tracy will problem solve with you on your painting ideas and challenges.Tracy has structured this class so we have a thought provoking, timed critique, and plenty of painting time after. The best of both! All mediums welcome! Take the afternoon class as well if you want a fun day of art! (There is a short lunch break in between.) Sign up now! Click Here to contact Tracy with questions.

Landscape Abstracting on Gold Gesso—with Tracy Budd
8 classes: Mondays, September 12–October 31 • 1:00 p.m.–4:00 p.m. • $250
Jump into shape making, value and color considerations on a gold metallic background. We will use palette knives, cards, stencils, wedges, rags, rollers and acrylics to create these interesting landscape based paintings. Several different projects will be introduced.Tracy demos promptly at 1:00, and then we have plenty of painting time. Come join the fun! Click Here to contact Tracy for a supply list and questions.

Painting–Independent Study—with Jane Winders Frank
8 classes: Thursdays, September 15–November 3 • 9:00 a.m.–Noon • $250
Bring unfinished work to complete or new ideas for fresh paintings to paint at your own pace. Jane begins class by sharing art history, contemporary artists and their work, and introduction to new materials. She will help you set goals and guide your process. Work in watermedia and add mixed media, if desired. Bring painting supplies to first class. Click Here to contact Jane with questions.

Paper Play (experimental watermedia)—with Vera Dickerson
7 classes: Tuesdays, September 27–Nov. 15 (Same class on Thursdays September 29–November 17) (No class October 18 or 20) • 1:00 p.m.–4:00 p.m. • $230
One of my favorite rice papers is the Japanese Masa paper. I will have a piece for each person in class to try out or continue your acquaintance with it. This can create a batik look as a background before we add images or any specifics. I'll be using acrylic paints as they work best with this technique and plan to concentrate on figure and animal subjects.You feel free to select whatever subject matter you enjoy… and use any other substrate you want, watercolor paper or canvas. Click Here to contact Vera with questions.

Mixed Media Collage 'Wabi-Sabi' Landscapes—with Gina Louthian-Stanley
1 class: Saturday, November 5 • 10:00 a.m.–4:00 p.m. • $85 (plus a $30 material fee for some papers, inks and sprays)
This is a great way to create enchanting, mystical mixed media pieces! The Wabi-Sabi aesthetic is sometimes described as one of beauty
that is "imperfect, impermanent, and incomplete".
Embrace the flow of something beautiful during the class and learn a new way to approach surface design.We will also do a few image transfers. Excellent class for beginners or learn a new way to break that creative funk! Collage papers, permanent pens, various inks and will be available as well as six 5" x 5" sheets of watercolor paper. You'll need to bring a few sheets of 140lb watercolor paper (if you want to create more pieces), scissors, and one small/ medium sized bottle of Liquatex or Golden, gel medium matt and four to six 1/2 inch foam brushes.
(It's suggested that you also bring acrylics, natural fiber decorative papers, vintage papers, ephemera, patterned paper, handwritten paper, laser copies of a few small images… your choice! You can never have enough paper!)
A lunch break will be included. Click Here to contact Gina with questions and to confirm registration.

Creative Collage with Gold and Black Gesso and Mediums—with Tracy Budd
3 classes: Wednesday-Friday, December 14–16 (these dates have changed) • 1:00 p.m.–4:00 p.m. • $165
In this collage class, we will experiment with everything paper.We will make papers, collect papers, tear, cut and make our shapes and compositions with papers and paint. We will use gold and black gesso in some new ways.Tracy will keep the ideas flowing with some specific projects to try. Mood and feeling of the pieces will be discussed along with color discoveries. Collage is a very good medium to try out your composition skills. Tracy will supply the gold gesso. Click Here to contact Tracy for a supply list.

Angel Paintings—with Tracy Budd
1 class: Monday, December 5 • Noon–3:30 p.m. • $65
Tracy loves angels! Many of you know that… in this class we will use anything we want to create interesting angel images
on wooden panels.Tracy is thinking paint, metallics, collage papers, found objects, fabrics, stencils mediums… just to mention a few. Sound fun? A festive project that could be photographed to be used for your Christmas card! Class size limited. Click Here to contact Tracy for a supply list.

Printmaking
Printmaking–Geli Print–with Gina Louthian-Stanley
2 classes: Mondays, October 17 and 24 • 5:30 p.m.–7:30 p.m. • $130
Come learn the basics of Geli Printmaking! Enjoy demos, use the Elements and Principles of Art to create prints, and explore making your own inspiring, colorfully designed monoprints, patterned papers, and more using the various paper samples and classroom tools.
Gina will show several Geli Printing techniques and discuss how to use the completed papers as a standalone print or decorative collage paper. Gina will have card stock, printmaking, and deli paper, cards and envelopes, 5" x 7" Geli plates and brayers to borrow during the class.
Bring your stamps, stencils, etc. for creating images, acrylic paints, extra papers, and your imagination. All levels welcome! Click Here to contact Gina with questions and to confirm registration.


2023 Summer Workshop with Iain Stewart
We are fortunate to have Iain Stewart, award winning watercolor painter, as our guest instructor for the 2023 Summer Workshop. The dates are Tuesday, June 13 – Friday, June 16 from 9:00 a.m.–4:00 p.m. Iain will lead participants from sketchbooks to finished paintings in watermedia.
Easel Society members may register early on December 1, 2022, other students on January 1, 2023.
$200 deposit secures your spot. Balance of $250 due on April 10, 2023.
If you register and then withdraw you must find a replacement, unless there is a waiting list; otherwise you forfeit your deposit.
Please make your $200 deposit check out to The Studio School and mail it with your name, address, email address and phone number to:
Jane Winders Frank
3040 McVitty Forest Dr., #207
Roanoke, VA 24018
Iain Stewart is a Scots born watercolor artist and architectural illustrator who's work has earned him signature membership in both the American and National Watercolor Societies along with numerous awards in international competitions. He has also been inducted into the Whiskey Painters of America. In his own words – I do my best not to think about the actual "things" I'm painting but how they combine to create a strong visual statement. Painting only what you see can become problematic.We can get too focused on some part of a scene only to miss opportunities that may lie just below the surface.
The ebb and flow, the back and forth, are what I find important and are my motivation for all of my work.
View additional information at http://www.stewartwatercolors.com/ including images of his works.