Spring 2019
ART CLASSES
If you are new to The Studio School or haven't taken classes in while, we think you'll love our larger, more accessible space at Towers Shopping Center in Roanoke! Our new location is on the upper level in the inside mall — just steps away from the Wildflower Restaurant. Long-time Roanokers may remember this space as the former Rams Head Bookstore.
Our new space is large and well-lit, and it has given us the ability to add two additional instructors: Patti Kapral and Bonnie Burt. Class enrollments are increasing and we look forward to welcoming new faces to our mix of students. As always, all levels are welcome!
We encourage you to enroll early — online if possible, but snail mail works too! Either way, we hope you'll engage your creative spirit and "FIND YOUR JOY" WITH US!
To register for classes online and pay by credit card click on the

button.
See below to contact class instructors, either by clicking the Contact link or via phone.

All phone numbers are 540 area code
Judy Bates • Contact • 312-1273
Tracy Budd • Contact • 556-8770
Bonnie D Burt • Contact • 520-4749
Vera M. Dickerson • Contact • 992-6585
Jane Winders Frank • Contact • 345-3759
Patti Kapral • Contact • 815-2214
Robin Poteet • Contact • 384-5022
Gina Louthian-Stanley • Contact • 761-1414
You can contact us by phone at 540-206-2209. Some classes fill quickly so reserve your space by registering early.
Weather and Class Cancellations
Cancellations are up to individual instructors, but in general, we follow the Roanoke City Schools weather policy. If city school classes are cancelled for the day, we
cancel our day and evening classes. If City Schools operate on a one or two hour delay, morning classes may be cancelled — your instructor will contact you via email.

Be an Art Angel
If you have some time to give, we would be grateful for any help you can provide, be it helping to organize and hang our school shows, keeping our parking lot tidy, or helping with general cleaning now and then! Click Here to contact instructor, Judy Bates if you have a bit of time and effort you can donate.
The Studio School is an incorporated non-profit organization, (501.C.3) with programs partially funded through the Virginia Commission for the Arts. It does not discriminate on the basis of race, gender, ethnicity, and socioeconomic status, sexual orientation, political affiliation, ability or disability. Easel Society Contributors of $250 or more will receive end of the year summaries for their records.
Click Here for a printable Winter Registration Form (form will open in an new window or tab).
Spring Classes for Children & Teens



Children's Art Explorer–with Patti Kapral
8 sessions, Mondays, March 4–April 22 • 5:00 p.m.–6:30 p.m. • $180 • All supplies included
This class will be for students age 5-12. Kids will be introduced to all forms of 2D media, and even a little bit of 3D. All supplies will be furnished. This is a great introduction into studio art for kids who are creative! Patti Kapral is also offering two oil pastel classes that are open to teens and adults. See her listings under the Oil Painting category below. Click Here to contact Patti with questions.

Spring Adult Classes
-Drawing-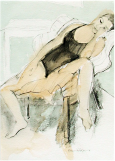 Drawing–with Bonnie D Burt
6 classes: Mondays, March 18–April 22 • 9:30 a.m.–12:30 p.m. • $150.00
Learning how to draw can be easy with a step by step, detailed, comprehensive instruction. You will deepen your understanding of form in space through various techniques, media and applications. We'll focus on basic drawing techniques with practice. Click Here to contact Bonnie with questions.

-Watercolor-
Continuing Watercolor–with Robin Poteet
7 classes: Wednesday Mornings, March 20–May 8 (no class April 17) • 9:30 a.m.–12:30 p.m. • $180
Also offered Wednesday afternoons • 1:00–4:00 p.m. same dates • $180
Robin's Wednesday sessions are fun and informative, and are filled with ways to improve your technical skills and your creative thinking. Bring the subjects you'd like to paint and Robin will help guide you through the painting process. Learn how to create interesting backgrounds, be daring with color, turn any subject into a great painting, improve your brushwork, create whites without using white paint… and on and on! Demos, discussions, critiques and plenty of painting time with individual attention. Click Here to contact Robin with questions.

Beginning Watercolor, Yes, I Can!–with Gina Louthian-Stanley
5 Classes, Monday Evenings, March 25, April 1, 8, 15, 22 • 5:30 p.m.–8:00 p.m. • $125.00
Designed for those who have no or little experience in watercolor, this course will focus on getting comfortable with watercolor painting techniques the basics of materials, tools, techniques, color, value and "seeing" your subject will be explored. The class is designed to be fun and inspirational and will focus on enjoying the process of watercolor. Upon completion of the course, you will be able to understand basic watercolor supplies (paper, paint, brushes), basic paint handling techniques, basic color mixing knowledge by creating a color wheel, etc., and pull all of the concepts together by completing a few small paintings of choice from a personal image. Click Here to contact Gina when you sign up, and for a materials list.

-Oil Painting-
Blooming All Over in Oil Pastel–with Patti Kapral
Six classes:Thursday evenings, March 7th–April 11th • 6:00 p.m.–8:00 p.m. • $160 • All supplies included
Come celebrate the Spring season with a class that will focus on bright blooms in Oil Pastels. We will create beautiful pastels of all kinds of flowers, and utilize many techniques. This class is great for the beginner as well as the experienced artist. All supplies will be included. Click Here to contact Patti with questions.

Unconventional Oil Pastel–with Patti Kapral
Six classes: Tuesday evenings, March 5th–April 9th • 6:00 p.m.–8:00 p.m. • $160 • All supplies included
This class will explore some unconventional ways to use oil pastel and incorporate some other media with oil pastel. If you're curious how to mix this medium into your work in different ways other than strictly drawing, then check this out! All supplies will be furnished. Click Here to contact Patti with questions.

Transparent Oil Techniques in Flower Painting–with Judy Bates
8 classes: Wednesdays, March 20–May 8 • 1:00 p.m.–4:00 p.m. • $200 • $5.00 to Judy at first class for reference photo and tracing materials
Achieve the luminosity of a watercolor while using transparent oil paint and oil glazes that allow the white of your panel to shine through and illuminate your paintings. You will learn to use transparent and semi-transparent paint and subsequent glazing to create glowing luminous paintings in any subject matter. As we study glazing/layering techniques you will gain a stronger understanding of color theory as it relates to intentional color mixing and color and value relationships. You will also learn techniques in paint application for various effects, blending and creating textures. A flower image is provided for you to work on as a group or you can bring your own closeup of a flower/flower garden. Click Here to contact Judy upon registration for a supply list.

-Water Media-
Open Studios–with Tracy Budd
8 classes: Mondays, 9:30 a.m.–12:30 p.m. • March 11–May 6 (no class on April 22) • $180
Come paint in an "open" environment with other interested artists! Lots of critique and plenty of painting time. A great lead in to Tracy's afternoon class if you want a DAY of art! Click Here to contact Tracy with questions.

Painting Basics and Beyond–with Tracy Budd
8 classes: Mondays, 1:00 p.m.–4:00 p.m. • March 11–May 6 (no class on April 22) • $200
Learn the basics of acrylic painting in this class where color, design, value, and texture will be covered. Tracy will demo weekly and help with the problem solving techniques all painters need in their "tool belt". Students will work through their own paintings and gain the paint confidence they need! Critiques andindividual help! All levels. Click Here to contact Tracy with questions.

Flowers in Collage–with Tracy Budd
4 classes: Tuesday, 9:30 a.m.–12:30 p.m. • March 19–April 9 • $125
Watermedia and collage combined here for pieces full of texture, interest and color! Students will dive into the world of paper layering and texture making combined with acrylic paints. Lots of fun and a great way to see design! All levels. Click Here to contact Tracy with questions.

Playing with Color–with Vera Dickerson
8 classes: Tuesdays, March 19–May 7 • 1:00 p.m.–4:00 p.m. • Same class also on Thursdays, Mar. 21 – May 9 • $200
We welcome the glorious colors that arrive with Spring and will study the link between values and hues, warms playing off cools and how to best use saturated color. Its a way to fill your art with strong emotional content and develop an impact, regardless of subject matter. Demos and critiques. Click Here to contact Vera with questions.

Painting–Independent Study–with Jane Winders Frank
8 classes: Thursday, March 21–May 9 • 9:00 a.m.–12:00 p.m. • $200
Bring fresh ideas for new paintings and refresh old work with guidance from Jane. Each class begins with shared information from art magazines and art history to help generate ideas. Jane helps you work through the stages of your painting to achieve the desired result. Bring watermedia supplies to first class. Click Here to contact Jane with questions.

Abstract Shape and Design–with Tracy Budd
Three classes: Tuesdays, 9:30 a.m.–12:30 p.m. • May 14, 21, 28 • $95
Shape, color, texture and mark making will all be apart of this intuitive painting class where strong design and "seeing " abstraction will become a painting or lead you to a direction of an abstracted landscape and more. Become free with your paint application and join the fun! Click Here to contact Tracy with questions.

-Special Interest Classes!-
Composing, Lighting and Photographing a Still Life for Painting or Drawing Reference–with Judy Bates
One class Wednesday, March 13 • 1:00 p.m.–4:00 p.m. • $50
In preparation for creating a still life using your own photograph as a reference for painting of drawing, learn to choose and arrange your objects in a way that creates dynamic and lively compositions that are anything but "still." Bring 5-6 objects, fabrics, flowers, fruits, etc. along with your camera. iPad, iPhone, or other Smartphone or tablet, etc., are preferred, while any digital camera is fine. You will learn to light and create a strong and dynamic composition, with a focus on scale, light patterns, color and value as important compositional devices. We will also do some in-camera editing on your smartphone or tablet. Designing a still life takes a lot of thought and energy but it is exciting and is my favorite part of the creative process. Lighting and white backboards are provided. Class limited to 10 people. Click Here to contact Judy with questions.

Cold Wax Alchemy–with Gina Louthian-Stanley
2 days: Saturday, April 6 and Sunday, April 7 • 10:00 a.m.–4:00 p.m. • $175.00 plus a $45.00 material fee for cold wax and other class medium to use, payable to Gina at the beginning of class
Cold wax oil painting mediums create luminous, glowing surfaces, capable of fine detail and subtlety, without the use of heat. We will look at actual examples of various working methods, create original pieces and explore surfaces and effects possible with the cold wax medium and oil. We'll use it as a surface treatment to create completed paintings, collages, and incorporate mixed media (including laser copied photos), by adding wax with various 'found' tools. All skill levels would benefit from this class, especially beginners. Bring your oil paint, and wood panels (or Arches oil paper), wax paper, paper towels, wet ones. Click Here to contact Gina when you sign up, and for more info and optional supplies to consider. Lunch breaks both days.

Encaustic Basics–with Gina Louthian-Stanley
2 days: Saturday, May 11 and Sunday, May 12 • 10 a.m.–3:00 p.m. • $150 plus $60 material fee payable to Gina
In this introductory class learn the composition of encaustic paint, appropriate supports and grounds, palette and studio set up. We will discuss and learn techniques such as image transfer, collage, incising, etc. All skill levels would benefit from this class, especially beginners. All materials provided, waxes, tools, and up to four panels. *Intermediate or advanced students welcome for studio time with critique. Click Here to contact Gina when you sign up, and for more info. Lunch breaks both days.

NEW! Paint Night! Unleash Your Inner Artist–with Vera Dickerson THIS CLASS IS FULL
Monday, April 29 • 6:30–8:30 p.m. • $45 supplies included
Come with a friend and enjoy a creative, fun-filled evening painting the poppies of France. Supplies and a glass of wine provided. Bring your enthusiasm, your choice of snack and leave with a painting to hang. Individual help and demos provided in a relaxed and supportive atmosphere. Click Here to contact Vera with questions.
And More…
Studio School DVD Series–with Jane Winders Frank
Scheduled dates are Friday, March 15  & Friday April 19 • 10:00 a.m. • Participation is free.
Join Jane to view demonstrations by well known artists or a glimpse into art history. DVD's are shown at 10:00 a.m. Jane will announce upcoming programs by email. Click Here to contact Jane and let her know if you want to be added to the list.