Summer 2020
ART CLASSES
Please consider making a donation to our school to help us weather this time. Any amount would be appreciated. We are a 501c3 non-profit.
Click Here for more information.
Winner of the 2019 Perry F. Kendig Award,
Arts & Cultural Organization
Welcome to The Studio School in Roanoke, Va. We are a non-profit art organization with a 30 year history of offering creative classes for all ages and all levels of expertise. Some of our "students" had an interest in art in their teens, then family and career took over—others are discovering art for the first time. Whatever your reason, we offer many classes to spark your imagination.
Our classes generally meet once a week for 8–10 weeks. Short, 1–3 session classes are also often available. We have 7 instructors with specialties in oil, acrylic, watercolor, oil pastel, encaustic, drawing and mixed media. All are seasoned professionals and are respected not just as artists, but as caring, articulate educators.
We are located on the upper level of Towers Shopping Center in Roanoke—inside the mall area just steps away from the Wildflower Restaurant. Studio School classes are informal, fun and inspiring and we invite you to "find your joy with us!"
To register for classes online and pay by credit card click on the

button.
NOTICE:
The safety and well-being of The Studio School's students, faculty and the community at large are of top priority as we make plans for Summer classes. In view of the worsening COVID-19 crisis and the president's declaration of a national emergency, we might have to make difficult decisions over the next few months involving our Summer classes and workshop. As classes do not start until June, we are hoping for the best and that we can go ahead as planned. However, we will reassess as time passes to do our part as we adhere to the guidelines set forth by the CDC and The Virginia Department of Health. Changes might become necessary as guidance continues to be updated. We will keep you posted on our website of any changes regarding the school.
We encourage you to reserve your space in one of our exciting Summer classes. Please rest assured that in the event it becomes necessary to cancel classes, refunds will be promptly issued.
Please feel free to contact any instructor by email if you have any questions or concerns.
We look forward to seeing you in the better days ahead and wish you all the best!
Stay healthy and keep painting!
See below to contact class instructors, either by clicking the Contact link or via phone.

All phone numbers are 540 area code
Judy Bates • Contact • 312-1273
Tracy Budd • Contact • 556-8770
Vera M. Dickerson • Contact • 992-6585
Jane Winders Frank • Contact • 580-6866
Patti Kapral • Contact • 815-2214
Robin Poteet • Contact • 384-5022
Gina Louthian-Stanley • Contact • 761-1414
To leave a voice mail, call 540-206-2209 and leave your name, phone # and a brief message. Someone will return your call ASAP.
Visit us on Facebook at thestudioschoolroanoke.
Weather and Class Cancellations
Cancellations are up to individual instructors, but in general, we follow the Roanoke City Schools weather policy. If city school classes are cancelled for the day, we cancel our day and evening classes. If City Schools operate on a one or two hour delay, morning classes may be cancelled—your instructor will contact you via email.

Be an Art Angel
If you have some time to give, we would be grateful for any help you can provide, be it helping to organize and hang our school shows, keeping our parking lot tidy, or helping with general cleaning now and then! Click Here to contact instructor, Judy Bates if you have a bit of time and effort you can donate.
The Studio School is an incorporated non-profit organization, (501.C.3) with programs partially funded through the Virginia Commission for the Arts. It does not discriminate on the basis of race, gender, ethnicity, and socioeconomic status, sexual orientation, political affiliation, ability or disability. Easel Society Contributors of $250 or more will receive end of the year summaries for their records.
Click Here for a printable Summer Registration Form (form will open in an new window or tab).
Classes for Children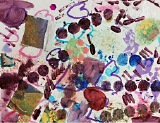 Mixed Media Collage Workshop for Kids–with Patti Kapral
Ages 5-9 • June 24, 25, 26 • 5:00 p.m.—6:30 p.m. • $75
This collage workshop for kids goes way beyond the magazine cut and paste notion of collage. We will explore several different ways of making interesting patterns and marks on papers and then use them to create one of a kind, colorful collage works of art. All supplies are included in this fun filled class! Click Here to contact Patti with questions.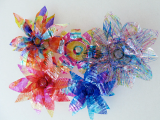 "Reduce, Reuse, Recycle"—with Patti Kapral
Ages 10-14 • July 15, 16, 17 • 4:00 p.m.—6:00 p.m. • $90
This workshop will focus on using found objects and "trash" to create works of art. Soda bottles, straws, plastic bags and much more can be transformed into amazing sculptural artworks while at the same time keeping them out of the trashbin. All supplies are included in this workshop. Save the planet—make art! Click Here to contact Patti with questions.

Classes for Adults



June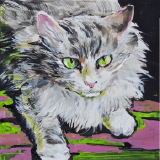 Fur, Fleece and Feathers–with Vera Dickerson
June 15, 16 • 9:00 a.m.–noon • $65 (includes a clay board)
Try out the smooth, absorbent surface of clay board to paint a pet or favorite creature using visual texturing, followed by negative painting. Demo and class painting. Acrylics. Metal leaf may also be used. Fee includes one 6"x6" clay board. Click Here to contact Vera with questions.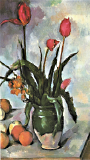 Studying Cezanne in Oil–with Judy Bates
4 classes: Monday, June 22–Thursday, June 25 • 10:00 a.m.–2:00 p.m. • $130 (plus $10.00 master copy and tracing materials)
Let's loosen up as we study the lively brushstrokes and luminous color of French Master Paul Cezanne (1839-1906). While painting his Tulips in a Vase c. 1890, we will observe and practice Cezanne's methods of constructing form and creating beautiful color relationships. Judy works alongside you and demonstrates each step along the way in this fun and informative class. You will be provided a photocopy of this painting to trace and transfer to your canvas. This age-old method of studying, copying and learning from the masters will enrich your future paintings in any subject-matter as you gain and strengthen your painting skills. For beginning painters with some experience to more advanced painters. Click Here to contact Judy at upon registration for a materials list or if you have any questions. There is a $10 fee payable to Judy at first class for your master copy and tracing materials.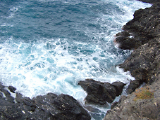 Watercolor–Surf and Turf–with Robin Poteet
2 classes: Friday & Saturday, June 26 and 27 • 9:00 a.m.–2:00 p.m. • $90
Get ready for 2-days of BIG, BOLD, DRAMATIC painting! Working full-sheet (22×30") or close to, we'll capture the power of waves, surf, rocks and cliffs in watercolor. Learn how to mix believable ocean blues, preserve whites, paint a spray of surf against rocks and and how to capture atmosphere and movement. Robin will email reference photos to work from, or you may bring your own. Come ready to have fun and be wild—the ocean is calling! Short lunch break both days. Click Here to contact Robin upon registration for a supply list and to purchase w/c paper if desired.

July
Acrylics and Collage–with Tracy Budd
6 Classes: Tuesdays, July 7–August 11 • noon–4:00 p.m. • $230
Back by popular demand, acrylics and collage is a fun, think out of the box class! We will make interesting collage papers, incorporate painting ideas onto paper and adhere to panel boxes. Tracy will give specific painting challenges each week to keep our ideas moving along. If you love to create and cut and glue, you'll love this class! Click Here to contact Tracy for a supply list!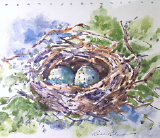 Watercolor–Bootcamp for Beginners!–with Robin Poteet
4 classes: Wednesday, Thursday, Friday, Saturday, July 8–11 • 9:00 a.m.–noon • $140
If you are curious about learning to paint and don't know where to start—start HERE! Watercolor is simple, portable and fun and is a great introduction to painting in general. This introductory class will touch on all of the basics, from materials to color mixing, to water/paint ratio and timing. Robin will demo and lecture, followed by group exercises and plenty of painting time with one-on-one guidance in an atmosphere thats relaxed and fun. Click Here to contact Robin for a supply list or to purchase a complete kit customized for this class.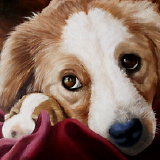 Dog (or Cat) Portraits in Oil–with Judy Bates
3 classes: Wednesday afternoons July 8, 15, 22 • noon–4:00 p.m. • $130
Anyone who knows me knows how I love dogs, and there is nothing I'd rather paint than the beautiful face of a dog. Learn to capture the light and life in their expressive bright eyes and to paint fur textures and moist noses. You will work from your own photo as you learn to transfer your image to canvas and create a life-like portrait of your dog or cat. Click Here to contact Judy upon registration for additional information on your reference photograph and for a materials list.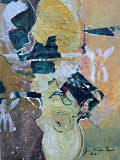 Explore Clayboard–with Jane Winders Frank
2 classes: Thursday & Friday, July 9, 10 • 9:00 a.m.–noon • $75
Clayboard is an exciting surface to paint on, carve into, or collage onto. It is coated with absorbent kaolin clay. You can achieve soft or bold effects, as you desire. We will work on 8" x 8", and 16" x 20" sizes. Supply list emailed upon registration. Please bring $20 to first class to pay Jane for clayboard. Click Here to contact Jane with questions.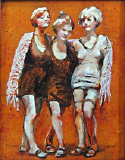 Painting Figures with a Patina of History–with Vera Dickerson
3 classes: July 13, 14, 15 • 9:00 a.m.–noon • $90
Take an old family photo, or add age patina to a recent one. We will develop a value study in sepias, burn out lights and add a tint of color to complete your own historic family record. Bring photo references, canvas, sealed board or watercolor paper and acrylics. Click Here to contact Vera with questions.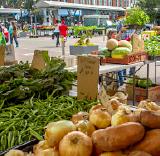 The Roanoke City Market–Sketching and Painting Studies–with Robin Poteet
2 classes: Friday, July 17 • 9 a.m.–11:00 a.m. (meet downtown, in front of Center in the Square) • Saturday, July 18 • 9 a.m.–12:30 p.m. (meet at the Studio School) • $55
The people, buildings, shapes, aromas and colors in Downtown Roanoke can be a treasure trove of inspiration. Using simple sketchbooks and pencils, we'll meet at 9:00am, Friday, July 17 on the city market to practice drawing quick value studies along with photographing things of interest. The following day, Saturday, we'll meet at The Studio School. Robin will talk about subject, contrast, editing and combining shapes and rendering people. Then students will have ample painting time to turn their sketches and photos into a series of small paintings using their choice of media. Click Here to contact Robin with questions.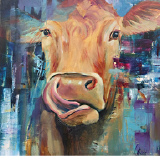 Lazy Days of Open Studios–with Tracy Budd
4 classes: Mondays, July 20, August 3, 17 and 31 • 10:00 a.m.–1:30 p.m. • $130
One of Tracy's MOST popular classes can't end in the summer! For all of those artists who will be working during the summer, open studios is the perfect class to compliment whatever project or medium you are working in! Weekly critiques and plenty of painting time. All mediums welcome…. Come join the fun! Click Here to contact Tracy with questions.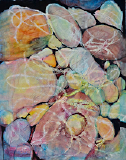 Can You Resist?–with Jane Winders Frank
2 classes: Thursday & Friday, July 23, 24 • 9:00 a.m.–noon • $75
We will experiment with wax, oil pastels, and clear tar gel in combination with watermedia to see how the paint resists those media. Exciting surfaces are guaranteed. Come join in and create dazzling pieces. Supply list emailed upon registration. Click Here to contact Jane with questions.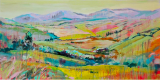 In Bed With Brian–with Vera Dickerson — This Class is Full
3 classes: July 29, 30, 31 • 9:00 a.m.–noon • $90
After evenings of taking the Rutenberg books to bed to absorb color before sleeping, this class has evolved as a color study. Regardless of your selected subject, we can learn to be brave and expressive in our understanding and use of this most evocative element of art. Acrylics. Demos, critique. Click Here to contact Vera with questions.
August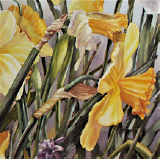 Watercolor–Botanical Techniques in Flower Painting–with Judy Bates
3 classes: Monday–Wednesday August 3, 4, 5 • noon–4:00 p.m. • $130
Judy is eager to share botanical techniques for creating fine detail and convincing form that will enhance your abilities in realistic flower painting. We will also practice mixing color and applying paint in a way that maximizes clarity and luminosity that brings life to your paintings in any subject-matter. Each day will consist of demonstrations, exercises and individual instruction. Please bring flowers and/or photos to use as reference. Just keep it simple and do not choose flowers with small petals such as a hydrangea. Let's give ourselves room to make a bold color statement as we develop our skills in creating amazing detail and beautiful, accurate colors. Photo references will also be available. Suitable for beginners with some experience to more experience painters. A materials list will be provided upon registration. Click Here to contact Judy with questions.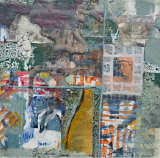 Mixed Media with Fabric–with Jane Winders Frank
2 classes: Thursday & Friday, August, 6, 7  • 9:00 a.m.–noon • $75
Enhance your mixed media artwork with the addition of pieces of fabric. Learn how to combine different weights of fabric, paper, paint, and drawing materials to make wonderful and expressive art pieces. Supply list emailed upon registration. Click Here to contact Jane with questions.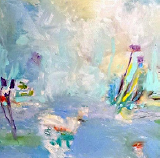 Cold Wax Alchemy and Open Studio Workshop–with Gina Louthian-Stanley
2 days: Saturday, August 8 and Sunday, August 9 • 10:00 a.m.–4:00 p.m. • $250
Explore the endless possibilities of painting with cold wax and oil! Take an intuitive approach into the many uses of luminous cold wax with oil paint, pastel, mark-making tools, brushes, scrapers and more. Composition, color and contrast will be addressed, along with an exploration of visual elements such as line, shape, pattern, texture, form and depth. We will create original pieces and explore effects possible with the oil and cold wax medium by using it as a surface treatment to create completed paintings, collages (including copied photos), and incorporate mixed media by adding oil and cold wax with various 'found' tools. All skill levels would benefit from this class, especially beginners. For previous cold wax participants, Gina will offer critiques, and be there to assist in developing your visual journey. *Bring your oil paints, Arches oil paper, Multimedia board, or recommended 8" x 8" birch board, gesso board, or clayboard panels, an old used gift card, palette paper, wax paper, Wet Ones, and a 12" palette knife or icing spreader. Gina will bring tools to share and several materials for you to try, plus furnish one jar of cold wax. Lunch breaks included. (Needs 4 to make). Click Here to contact Gina with questions.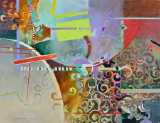 Abstraction: Wide Open–with Vera Dickerson
3 classes: August 10, 11, 12 • 9:00 a.m.–noon • $90
Experiment with black gesso transfers, white gesso lifts, fogging, resists, paint transfers, stencils and mark making as we use basic design principles to develop our painting. You may slightly abstract a realistic subject or work totally non-objective. Demos at beginning of each painting day. Critique. Click Here to contact Vera with questions.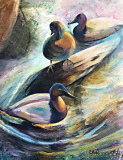 Three Weeks of Yupo & Paint–with Tracy Budd
3 classes: Tuesdays August 11, 18, 25 • 1:00 p.m.–4:00 p.m. • $95
Yupo paper is a fascinating surface to work on with our acrylics. A plastic watercolor paper, it is the ultimate of sealed surfaces and paint can be applied and removed with ease. Textures are unique to this fun surface, which is durable and can be painted, stenciled and scraped! Give it a try!! Click Here to contact Tracy for a supply list.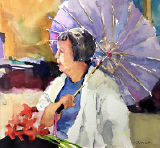 Watercolor–Demystifying Backgrounds–with Robin Poteet
Saturday, August 15 • 9:00 a.m.–1:00 p.m. • $40
We've all done it—painted that beautiful flower or animal and then thought: now, what do I do with the background? Don't let fear or indecision ruin a perfectly good painting! This one-day workshop will give you ways to approach your backgrounds creatively and with confidence. We'll delve into color choices, value, timing, how to connect background and subject, creating texture, managing detail and more. You'll use those skills to create several small paintings in class. Bring your usual watercolor paints, brushes and paper. Robin will email photo references, or you are welcome to bring your own. (This class is suitable for all levels of watercolor painters!). Click Here to contact Robin with questions.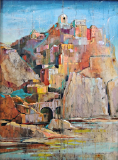 Masa Paper Landscapes–with Vera Dickerson
August 26, 27, 28 • 9:00 a.m.–noon • $95 (includes a piece of Masa paper)
Using this Oriental paper and your own photo references, create a landscape of rocky hill town, ocean-side cliffs or our own Virginia rocky stream. Allow the natural batik look of this paper to become the major feature of the painting. Demos of step by step process. 16" x 20" masa paper included. Click Here to contact Vera with questions.