Winter 2021
ART CLASSES
Please consider making a donation to our school to help us weather this time. Any amount would be appreciated. We are a 501c3 non-profit.
Click Here for more information.
Winner of the 2019 Perry F. Kendig Award,
Arts & Cultural Organization
Welcome to The Studio School in Roanoke, Va. We are a non-profit art organization with a 30 year history of offering creative classes for all ages and all levels of expertise. Some of our "students" had an interest in art in their teens, then family and career took over—others are discovering art for the first time. Whatever your reason, we offer many classes to spark your imagination.
We are located on the upper level of Towers Shopping Center in Roanoke—inside the mall area just steps away from the Wildflower Restaurant. Studio School classes are informal, fun and inspiring and we invite you to "find your joy with us!"
To register for classes online and pay by credit card click on the

button.
SAFETY PRECAUTIONS:
We are taking every precaution to keep our students and instructors safe and will continue to monitor safety regulations. We ask that ALL students and instructors wear a mask in class and that each student bring a disposable trash bag to use in place of our cloth table mats.We will provide hand sanitizer, and gloves for those who would like to use them.Tables will be spread out for safe distancing. If it is necessary for a class to be postponed or cancelled, your instructor will contact you regarding refunds or credits.
See below to contact class instructors, either by clicking the Contact link or via phone.

All phone numbers are 540 area code
Judy Bates • Contact • 312-1273
Tracy Budd • Contact • 556-8770
Vera M. Dickerson • Contact • 992-6585
Jane Winders Frank • Contact • 580-6866
Patti Kapral • Contact • 815-2214
Robin Poteet • Contact • 384-5022
Gina Louthian-Stanley • Contact • 761-1414
To leave a voice mail, call 540-206-2209 and leave your name, phone # and a brief message. Someone will return your call ASAP.
Visit us on Facebook at thestudioschoolroanoke.
Weather and Class Cancellations
Cancellations are up to individual instructors, but in general, we follow the Roanoke City Schools weather policy. If city school classes are cancelled for the day, we cancel our day and evening classes. If City Schools operate on a one or two hour delay, morning classes may be cancelled—your instructor will contact you via email.

Be an Art Angel
If you have some time to give, we would be grateful for any help you can provide, be it helping to organize and hang our school shows, keeping our parking lot tidy, or helping with general cleaning now and then! Click Here to contact instructor, Judy Bates if you have a bit of time and effort you can donate.
The Studio School is an incorporated non-profit organization, (501.C.3) with programs partially funded through the Virginia Commission for the Arts. It does not discriminate on the basis of race, gender, ethnicity, and socioeconomic status, sexual orientation, political affiliation, ability or disability. Easel Society Contributors of $250 or more will receive end of the year summaries for their records.
Click Here for a printable Winter Registration Form (form will open in an new window or tab).
Classes for Children & Teens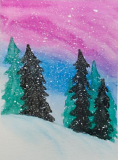 Winter Wonderland—with Patti Kapral
Ages 5-9 • Saturday, January 23 • 10:00 a.m.–11:30 a.m. • $40
Now that the holidays are over, what can the kids do? Why not a fun and creative class where they get to stretch their creative muscles? In this one day workshop, students will create a winter scene using watercolor and other media. Students will leave with a finished watercolor painting. All supplies included. Click Here to contact Patti with questions.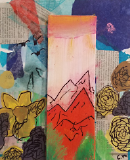 A Look at Principles of Design—with Patti Kapral
Ages 10-14 • Tuesdays, January 12–March 2 • 5:00 p.m.–6:30 p.m. • $200
The Principles of Design, in conjunction with the elements of art, are the tools used to give an artwork structure and strong composition. In this class, we will explore how principles such as balance, pattern, contrast and others work together to create dynamic compositions. A variety of media will be introduced, and all supplies are included! Click Here to contact Patti with questions.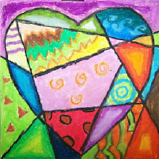 Be My Valentine—with Patti Kapral
Ages 5 and up • Saturday, February 13 • 10:00 a.m.–noon • $45
Love is in the air with this fun activity workshop! In this one day workshop students will be able to create valentines for their friends and family with a bit of flair! All supplies included! Click Here to contact Patti with questions.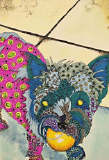 Patterned Pets—with Patti Kapral
Ages 10-14 • Saturday, March 6 • 10:00 a.m.–11:30 a.m. • $40
Come and create a pet portrait with lots of personality! Students will submit a photo of a pet which will be transferred to a surface. They will then add lots of pattern and color to create a one of a kind pet portrait! All supplies are included in this fun one day workshop! Click Here to contact Patti with questions.

Classes for Adults



Drawing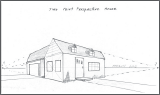 Perspective Drawing—with guest instructor, Kyle Keyser
2 classes: Friday, January 29 and Friday, February 5 • 1:00 p.m.–3:00 p.m. • $40
This class will introduce students to basic perspective drawing in one-point perspective, two point perspective and atmospheric perspective. Students will learn to draw cubes at eye level, above eye level, below eye level in one and two point perspective. Students will also draw a basic house, room interior and a city scene. Students should bring: a rubber kneaded eraser, pencil, 18" ruler, and 5 sheets of white drawing paper (approximately 18" x 24"). Instructor Kyle Keyser is a graduate of Virginia Commonwealth University with a Bachelor of Fine Arts. He holds a MS degree (with visual arts focus) from New York's Bank Street College and Parsons School of Design.
Watercolor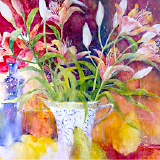 Exploring Surfaces and Techniques—with Robin Poteet
7 classes: Wednesdays, January 6 – February 17 • Mornings 9:30 a.m.–12:30 p.m. • Afternoons 1:00 p.m.–4:00 p.m. • $200
More and more watercolor artists are using nontraditional papers, boards and treated surfaces to create exciting watercolor paintings. In this class we'll use three surfaces—Aquabord, Synthetic Paper and Illustration Board and will practice techniques such as glazing and layering to bring out the best in those surfaces. Students will work from their own subject choices, with demos and individual assistance from Robin. These days, having a creative outlet is more important than ever, so come prepared to splatter, drip, learn new skills and have fun! Click Here to contact Robin with questions.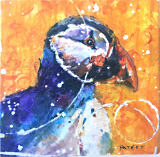 Watercolor and Wax—with Robin Poteet
2 classes: Friday, February 26 and Saturday, February 27 • 9:30 a.m.–1:30 p.m. • $90, includes most supplies
Robin's batik watercolor & wax workshop is perennial favorite! We'll spend two hands-on days using ink, rice paper, paint, wax, an iron (and a few other tricks) to create wonderfully imaginative paintings. You'll wind up with 3 or 4 more pieces mounted on gallery wrap canvas. Robin will have templates you may copy or bring your own subject ideas she'll help you turn them into wild and wonderful works of art. Click Here to contact Robin for a minimal supply list.

Watermedia
Creative Play: Watermedia—with Vera Dickerson
4 classes: SESSION 1
Tuesdays, January 5–26
same class Thursdays, January 7–28
4 classes: SESSION 2
Tuesdays, February 2–23
same class Thursdays, February 4–25
1:00 p.m–4:00 p.m. • $125 each
Games and creative play, events and celebrations have been missing from our lives, so lets find a visual way to add fun and a new twist to our approach and answer "What do I paint?" Game boards, cards and processions all have a pattern and teach us gamesmanship. Lets use this in our source material, color and pattern choices to involve the viewer and bring fun into our art. A nod to Joan Fullerton in one exercise. Demos and critiques. Click Here to contact Vera with questions.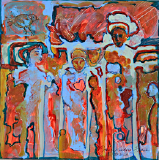 Painting–Independent Study—with Jane Winders Frank
8 classes: Thursday, January 7–February 25 • 9:00 a.m.–noon • $240
Renew your creativity and bring fresh ideas for new paintings or seek solutions for painting problems. Jane begins each class with information on new materials, art magazines, books, and art history to help generate ideas. She helps you set goals and work through the stages of your painting. Bring watermedia supplies to first class. Mixed media elements can be added to your work as desired. Click Here to contact Jane with questions.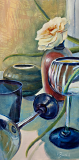 Painting Basics and Beyond–"Glass Scapes", Painting glass and other reflective surfaces in acrylic!—with Tracy Budd
8 classes: Mondays, January 11–March 1 • 1:00 p.m.–4:00 p.m. • $240
Tracy's layered acrylic class will start out working on painting glass or objects of reflection concentrating on shape, abstraction, color and value.The basics in color , texture, value and composition will be covered and an overall understanding of creating the beauty of glass will be achieved! All levels welcome! Weekly demos and class sizes are limited, so sign up early! Click Here to contact Tracy for a supply list.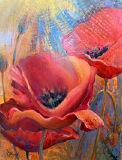 Open Studios and Critique—with Tracy Budd
8 weeks: Mondays, January 11–March 1 • 9:30 a.m.–12:30 p.m. • $240
Join this interactive class of art "sharing" designed for all mediums. We start each week with a critique, where we share and problem solve our works from beginning to the end. There is plenty of painting time and students all learn from each other. Come join a class where we all speak the same language and feel inspired to paint and create! Stay for Tracy's afternoon class, and have a whole day of painting bliss! Click Here to contact Tracy with questions.

Texture Making in Acrylics One Day Workshop—with Tracy Budd
Friday, March 5 • 9:30 a.m.–3:00 p.m. • $65 includes texture mediums
This one day workshop will concentrate on the fabulous texture making mediums available to acrylic painters. We will learn about the different mediums and uses in our layered acrylic paintings. Demos and hands on applications, you will come away with many new tools in your watermedia tool belt! Class size is limited. Join the fun! Click Here to contact Tracy with questions.

Cold Wax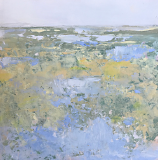 Cold Wax Alchemy and Open Studio Workshop—with Gina Louthian-Stanley
2 days: January 9 and January 10 • 10:00 a.m.–4:00 p.m. • $225
Explore the endless possibilities of painting with cold wax and oil! Take an intuitive approach into the many uses of luminous cold wax with oil paint, pastel, mark-making tools, brushes, scrapers and more. Composition, color and shape, pattern, texture, form and depth.We will create original pieces and explore effects possible with the oil and cold wax medium by using it as a surface treatment to create completed paintings, collages (including copied photos), and incorporate mixed media by adding oil and cold wax with various 'found' tools.
All skill levels would benefit from this class, especially beginners. For previous cold wax participants, Gina will offer critiques, and be there to assist in developing your visual journey.
*Bring a sheet of plastic or large trash bags to cover your workspace, your oil paints,Arches oil paper, Multimedia board, or recommended 8" x 8" birch board, gesso board, or clayboard panels, palette paper, wax paper, paper towels,Wet Ones, and a 12" palette knife or icing spreader, and blue painters tape. Gina will bring tools to share and several materials for you to try, plus furnish one jar of cold wax and samples of some materials. Lunch breaks included. (Needs 4 to make, limit 10). Click Here to contact Gina with questions.

2021 Summer Workshop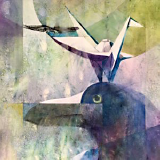 Chaos to Order—with Kathleen Conover
Monday, June 14–Friday, June 18, 2021 • $450
Award winning Michigan artist Kathleen Conover presents her exciting workshop experimenting with materials, design, and watermedia. For examples of her work, additional description of this workshop, and a supply list go to her website https://kathleenconover.com/ and select Galleries or Workshops.
Registration for Easel Society members from December 1–31. All other students can register beginning January 1, 2021. There is a limit of 20 students.
Please send registrations to:
Jane Winders Frank
3040 McVitty Forest Dr.
Apt. 207
Roanoke, VA 24018
Registration must include a deposit of $200. Balance of $250 due April 10, 2021.
Please include your name, address, email address, and phone number.