Winter 2022
ART CLASSES
Please consider making a donation to our school to help us weather this time. Any amount would be appreciated. We are a 501c3 non-profit.
Click Here for more information.
Winner of the 2019 Perry F. Kendig Award,
Arts & Cultural Organization
Welcome to The Studio School in Roanoke, Va. We are a non-profit art organization with a 30 year history of offering creative classes for all ages and all levels of expertise. Some of our "students" had an interest in art in their teens, then family and career took over—others are discovering art for the first time. Whatever your reason, we offer many classes to spark your imagination.
We are located on the upper level of Towers Shopping Center in Roanoke—inside the mall area just steps away from the Wildflower Restaurant. Studio School classes are informal, fun and inspiring and we invite you to "find your joy with us!"
To register for classes online and pay by credit card click on the

button.
SAFETY PRECAUTIONS
We are taking every precaution to keep our students and instructors safe and will continue to monitor safety regulations. We ask that ALL students and instructors wear a mask in class and that each student bring a disposable trash bag to use in place of our cloth table mats. We will provide hand sanitizer, and gloves for those who would like to use them. Tables will be spread out for safe distancing. If it is necessary for a class to be postponed or canceled, your instructor will contact you regarding refunds or credits. Weather is another factor and your instructor will be in touch with you the day/evening before a scheduled class if it appears there may be an issue.

See below to contact class instructors, either by clicking the Contact link or via phone.

All phone numbers are 540 area code
Judy Bates • Contact • 312-1273
Tracy Budd • Contact • 556-8770
Vera M. Dickerson • Contact • 204-1914
Jane Winders Frank • Contact • 580-6866
Patti Kapral • Contact • 815-2214
Robin Poteet • Contact • 384-5022
Gina Louthian-Stanley • Contact • 761-1414
Visit us on Facebook at thestudioschoolroanoke.
Weather and Class Cancellations
Cancellations are up to individual instructors, but in general, we follow the Roanoke City Schools weather policy. If city school classes are cancelled for the day, we cancel our day and evening classes. If City Schools operate on a one or two hour delay, morning classes may be cancelled—your instructor will contact you via email.

Be an Art Angel
If you have some time to give, we would be grateful for any help you can provide, be it helping to organize and hang our school shows, keeping our parking lot tidy, or helping with general cleaning now and then! Click Here to contact instructor, Judy Bates if you have a bit of time and effort you can donate.
The Studio School is an incorporated non-profit organization, (501.C.3) with programs partially funded through the Virginia Commission for the Arts. It does not discriminate on the basis of race, gender, ethnicity, and socioeconomic status, sexual orientation, political affiliation, ability or disability. Easel Society Contributors of $250 or more will receive end of the year summaries for their records.
Click Here for a printable Winter Registration Form (form will open in an new window or tab).
Classes for Children & Teens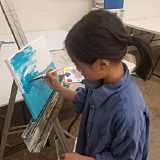 Adventures in Acrylic—with Patti Kapral THIS CLASS IS FULL
Ages 5-9 • Tuesdays, January 25–February 15 • 5:00 p.m.–6:30 p.m. • $100
In this short class series, students will learn basic acrylic techniques including blending, glazing, and adding collage elements. At the end of the class, students will have a finished abstract acrylic painting. All supplies included in this fun and explorative class! Space is limited, so register early! Click Here to contact Patti with questions.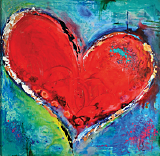 Crazy Painted Hearts—with Patti Kapral THIS CLASS IS FULL
Ages 8-14 • Saturday, February 12 • 10:00 a.m.–11:30 a.m. • $45
Just in time for Valentine's Day! In this one day workshop, students will create an acrylic heart painting à la Jim Dine on canvas using bright color and texture with acrylic modeling paste. All supplies are included in this fun and expressive workshop and space is limited, so register early! Click Here to contact Patti with questions.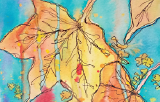 Painting Basics and More!—with Patti Kapral THIS CLASS IS FULL
Ages 10-14 • Tuesdays, February 22–March 15 • 5:00 p.m.–6:30 p.m. • $100
This series of classes will introduce students to the basics of acrylic painting, including composition, under painting, blending, glazing, and adding texture. Students will have a finished acrylic painting on canvas when the series is done. All supplies are included in this fun and informative class! Space is limited so register early! Click Here to contact Patti with questions.
Classes for Adults



Drawing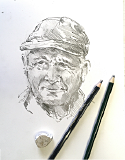 Learn to Draw Expressive Faces in Pencil—with Robin Poteet THIS CLASS IS FULL
3 classes: Thursday, Friday and Saturday, March 10, 11, 12 • 9:30 a.m.–Noon • $130 (includes paper)
Pencil (graphite) is a marvelous way to capture the nuances of a face. It is also forgiving since it's easy to correct and adjust as we draw. Bring photos of your ancestors, grandchildren, or even interesting strangers.You'll learn how to look at their features as shapes and values rather than as "eyes and noses". You'll learn shading techniques, how to soften edges and how to gauge proportions. Robin will provide 2 pieces professional quality paper. Email her for the pencils and other minimal supplies needed.This class is suitable for all levels, but it is helpful for students to have some drawing practice beforehand. Click Here to contact Robin if you have questions.
Oil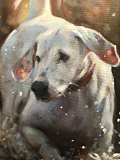 Animal Portraits and People Portraits in Oils—with Guest Artist Susan Bradbury
8 classes: Tuesdays, January 11–March 1 • 9:30 a.m.–12:30 p.m. • $275
If you love animals and want to paint a portrait of your pet and a portrait of a person, this class is for you. This will be a Half n'Half class. Four weeks of animal portraiture and four weeks of human portraiture. You can bring your own photos or Susan will supply them for you. We may have someone posing for us but that is yet to be determined as the cost will be extra. She will start with a demo and explain value, edges and color. You will learn technique, do exercises to improve brush strokes, utilize color theory and overall catch the luminosity of light and shadow on the animals and human portrait. Supply list will be emailed upon registration. Class size is limited to ensure that everyone gets the attention they need. Skill level is intermediate to advanced. Email: mombradbury@gmail.com Website: www.susanmillerbradbury.com

Watercolor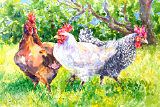 Continuing Watercolor—with Robin Poteet
7 classes: Wednesday, January 12–February 23 • 9:30 a.m.–12:30 p.m.
Also offered afternoons, same dates 1:00 p.m. – 4:00 p.m. • $225
Robin's watercolor sessions are fun, informative and filled with ways to improve your technical skills and your creative thinking. Bring the subjects you'd like to paint and learn to edit out clutter in your photographs, be daring with color, turn any subject into a great painting, improve brushwork, create whites without using white paint… and on and on! Our sessions are filled with demos, discussions, group exercises, and plenty of painting time with individual attention as Robin circulates the room. This class is geared for those with general watercolor experience and beyond. Click Here to contact Robin if you have questions.

Watermedia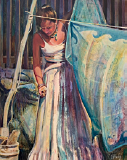 Dealing with Edges with Layered Acrylics on Yupo Paper/Painting Basics and Beyond—with Tracy Budd
8 classes: Mondays, January 10–February 28 • 1:00 p.m.–4:00 p.m. • $275
Learn to notice and describe your edges of shapes in this acrylic class with Tracy. Edges can be soft or hard, draw attention or recede, so it is important to know how the handle the situation! Also in this class, you will be introduced to Yupo paper, a plastic watercolor paper, the wonderful characteristics of this unique surface, and some great techniques that this remarkable surface does so well.We will finish these pieces by adhering them to wooden panels.Weekly demos and critiques. Come join the fun! Click Here to contact Tracy or a supply list.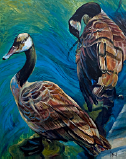 Open Studios and Critique—with Tracy Budd
8 classes: Mondays, January 10–February 28 • 9:30 a.m.–12:30 p.m. • $275
Come join this "oh so necessary" painting class where we have weekly critiques and painting time. It is informative and inspirational to problem solve with other artists on our painting journeys.Working weekly keeps your brushes wet and your creativity alive!
Tracy will help you work through your pitfalls and triumphs to make your very best paintings and discover your style and painting voice! All mediums invited! This is a great lead in to the afternoon class, if you want to treat yourself to a whole day of concentrated painting fun! Class size limited, so signup soon! Click Here to contact Tracy with questions.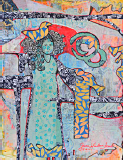 Painting–Independent Study—with Jane Winders Frank
8 classes: Thursdays, Janaury 13–March 3 • 9:00 a.m.–Noon • $250
Bring unfinished work and new ideas to a class where you can paint at your own pace. Jane will help you set goals and guide your process. Develop your unique painting voice. Class begins with sharing of art history, work of practicing artists, and some demos. New techniques and new materials are introduced.Work in watermedia and add mixed media, if desired. Bring watermedia painting materials to first class. Click Here to contact Jane with questions.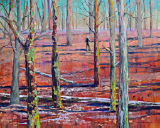 Clear Air and Winter Light—with Vera Dickerson
7 classes: Tuesdays OR same class Thursdays
Tuesday Classes 1:00 p.m.–4 p.m., January 18–March 1 TUESDAY CLASS IS FULL • Thursday Classes: 1:00 p.m.–4 p.m., January 20–March 3 • $250
Winter can bring clear air, sharp contrasts, strong light and dark of the landscape and a quietness that soothes in its stillness.The change of seasons is captured in color, value and atmosphere.We will look at some examples and then translate into our personal choices for painting.While we think of landscapes, this mood can also be translated to figure, still life and abstraction.Watermedia class. Demos and critiques. Click Here to contact Vera for a supply list.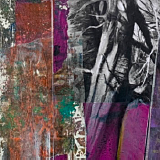 Small Gems/Creating Texture with Mediums and Collage—with Tracy Budd
2 classes: Thursday & Friday, March 3 & 4 • 9:30 a.m.–1:30 p.m. • $130
Layered acrylics are the perfect medium for building texture you can see and FEEL. Building texture with acrylic mediums and incorporating collage pieces, paint and metallics, we will build these small painting jewels. Lots of pattern, composition and shape making will be involved in this project.Think "content" and portraying a feeling about your subject in these 12"x12" paintings we will adhere to wooden panels. Come join the fun! Contact Tracy for a supply list. Click Here to contact Tracy for a supply list.

Printmaking & Cold Wax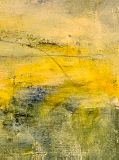 Cold Wax Alchemy and Open Studio Workshop—with Gina Louthian-Stanley
2 days: January 15 & January 16 • 10:00 a.m.–3:00 p.m. • $295
Explore the endless possibilities of painting with cold wax and oil! Take an intuitive approach into the many uses of luminous cold wax with oil paint, pastel, mark-making tools, brushes, scrapers and more. Composition, color and contrast will be addressed, along with an exploration of visual elements such as line, shape, pattern, texture, form and depth.We will create original pieces and explore effects possible with the oil and cold wax medium by using it as a surface treatment to create completed paintings, collages (including copied photos), and incorporate mixed media by adding oil and cold wax with various 'found' tools. All skill levels would benefit from this class, especially beginners. For previous cold wax participants, Gina will offer critiques, and be there to assist in developing your visual journey. *Bring your oil paints, Arches oil paper, Multimedia board, or recommended 8" x 8" birch boards, gesso boards, or clayboard panels, an old used gift card, palette paper, wax paper, paper towels,Wet Ones, and a 12" palette knife or icing spreader. Gina will bring tools to share and furnish one 4 oz.jar of cold wax.There is a materials list with other items that will enhance your experience. Lunch breaks included. (Needs 4 to make) All levels welcome! Click Here to contact Gina with questions.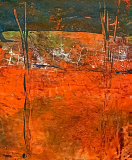 Painting–Printmaking–Geli Print—with Gina Louthian-Stanley
2 classes: Mondays, January 24 & 31 • 5:30 p.m.–7:30 p.m. • $125
Come learn the basics of Geli Printmaking! Enjoy demos, use the Elements and Principles of Art to create prints, and explore making your own inspiring, colorfully designed monoprints, papers, and more using the various paper samples and classroom tools. Gina will show several Geli Printing techniques and discuss how to use the completed papers as a standalone print or decorative collage paper. Bring your stamps, stencils, etc. for creating images, acrylic paints, extra papers, and your imagination. Gina will have card stock and deli paper, Geli plates and brayers to use. All levels welcome! Click Here to contact Gina with questions.

2022 Workshop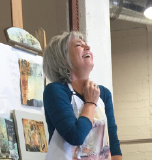 Contemporary Approaches for Self Expression—with Joan Fullerton
Tuesday–Friday, May 24–May 27 • $450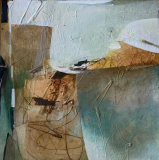 Paint as you like and live happy! Dancing with the unknown, exploring inner and outer worlds, laughing and playing, learning to deal with self-doubt and the frustrations of the creative process…expressing yourself and discovering your unique voice…it's challenging, and it's oh so fun!
Easel Society members will be able to register beginning in December, 2021 and all others can register starting in January, 2022.
Registration with a $200 deposit payable to The Studio School is sent to: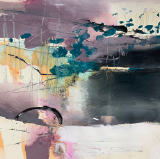 Jane Winders Frank
3040 McVitty Forest Dr.
Unit 207
Roanoke, VA, 24018
With the balance ($250) due in April, 2022. Inquiries to Jane at papermker@aol.com.