Winter 2019
ART CLASSES
If you are new to The Studio School or haven't taken classes in while, we think you'll love our larger, more accessible space at Towers Shopping Center in Roanoke! Our new location is on the upper level in the inside mall — just steps away from the Wildflower Restaurant. Long-time Roanokers may remember this space as the former Rams Head Bookstore.
Our new space is large and well-lit, and it has given us the ability to add two additional instructors: Patti Kapral and Bonnie Burt. Class enrollments are increasing and we look forward to welcoming new faces to our mix of students. As always, all levels are welcome!
We encourage you to enroll early — online if possible, but snail mail works too!. Either way, we hope you'll engage your creative spirit and "FIND YOUR JOY" WITH US!
To register for classes online and pay by credit card click on the

button.
See below to contact class instructors, either by clicking the Contact link or via phone.

All phone numbers are 540 area code
Judy Bates • Contact • 312-1273
Tracy Budd • Contact • 556-8770
Bonnie D Burt • Contact • 540-520-4749
Vera M. Dickerson • Contact • 992-6585
Jane Winders Frank • Contact • 345-3759
Patti Kapral • Contact • 815-2214
Robin Poteet • Contact • 384-5022
Gina Louthian-Stanley • Contact • 761-1414
You can contact us by phone at 540-206-2209. Some classes fill quickly so reserve your space by registering early.
Weather and Class Cancellations
Cancellations are up to individual instructors, but in general, we follow the Roanoke City Schools weather policy. If city school classes are cancelled for the day, we
cancel our day and evening classes. If City Schools operate on a one or two hour delay, morning classes may be cancelled — your instructor will contact you via email.

Be an Art Angel
If you have some time to give, we would be grateful for any help you can provide, be it helping to organize and hang our school shows, keeping our parking lot tidy, or helping with general cleaning now and then! Click Here to contact instructor, Judy Bates if you have a bit of time and effort you can donate.
The Studio School is an incorporated non-profit organization, (501.C.3) with programs partially funded through the Virginia Commission for the Arts. It does not discriminate on the basis of race, gender, ethnicity, and socioeconomic status, sexual orientation, political affiliation, ability or disability. Easel Society Contributors of $250 or more will receive end of the year summaries for their records.
Click Here for a printable Winter Registration Form (form will open in an new window or tab).
Winter Classes for Children & Teens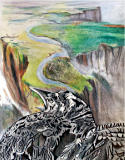 Drawing for Teens (ages 10-14)—Perspective Drawing–with Gina Louthian-Stanley
3 Classes: Saturdays, Jan. 5, 12, and 19 • 10:00–11:30 a.m. • $85.00
This class will focus on 1-pt, 2-pt, and 3-pt perspective. We will have a class project using a perspective of choice. Students need to bring a 11 X 14 Canson Mixed Media Sketchbook, a set of drawing pencils (2B, 4B, 6B, HB, B, 2H 4H, 6H), drawing erasers, and a small set of Prismacolor Color pencils along with a pencil sharpener that will hold shavings. Gina will supply a folio of notes and other materials included in the class fee. Click Here to contact Gina with questions.

Exploring The Process (ages 5 and up)–with Patti Kapral
8 classes: Tuesdays, Jan. 8–Feb. 26 • 5:00–6:30 p.m. • $150.00–all supplies included!
Exploring The Process is a class for children that will focus on different processes for creativity, such as collage, printmating, pour painting, and other techniques and processes. This class will be more centered on experimentation and not so much worried about the end result. Each class will explore a new process. All supplies included, but students may wish to have a smock or old shirt because the creative process can sometimes be very messy! Expect a whole lot of fun in this class! Click Here to contact Patti with questions.

Children's Exploration in Studio Art!–with Gina Louthian-Stanley
Messy Mixed Media! (ages 8–14) • 3 classes: Saturdays, March 16, 23, 30 • 10:00 a.m.–12:00 p.m. • $90.00 • $35.00 supply fee to Gina
Different methods and mediums will be taught each class in projects that encourage students to express themselves, to make independent choices and evaluations of their work, to develop fine motor skills in age-appropriate ways, and to approach their art-making with a sense of fun and appreciation of art. Each session of Messy Mixed Media is different, but frequent activities will include activities working from still life, photographs, images from art history and/or independent themes and ideas, students will be introduced to specific drawing and painting fundamentals and techniques. These include line drawing, value, shape, pattern, texture, shading, highlighting, color perspective and collage. While experimenting with an exciting variety of artist's tools, mediums and techniques, students will learn to explore and trust their creative instincts. Gina will have everything you need! Click Here to contact Gina with questions.

Fall Adult Classes
-Drawing-
Drawing–with Bonnie D Burt
8 classes: Mondays, Jan. 14–March 4 • 9:30 a.m.–12:30 p.m. • $200
Learning how to draw can be easy with a step by step instruction. You will deepen your understanding of form in space through various techniques, media and applications. We'll focus on basic drawing techniques with practice. Click Here to contact Bonnie with questions.

-Watercolor-
Watercolor Magic!–with Robin Poteet
7 classes: Wednesday Mornings • Jan. 9–Feb. 20 • 9:30 a.m.–12:30 p.m. • $180 • also offered Wednesday Afternoons • Jan. 9–Feb. 20 • 1:00–4:00 p.m. • $180
Watercolor has a magic of its own…it moves and blends, and it teaches us patience and humility. When we learn to "step away from our paintings" watercolor rewards us with a fresh, effortless look that is difficult to achieve with any other media! Start the new year with an infusion of creativity as we practice classic techniques as well as breaking the rules. Bring your favorite reference photos (any subject) and Robin will help you accomplish your goals. Work large or small, detailed or loose. Each class starts with a talk & demo by Robin, followed by ample painting time and one-on-one attention. Click Here to contact Robin with questions.

Let it Snow, Let it Snow, Let it Snow! • 1 day workshop–with Robin Poteet
1 class: Saturday, March 2 • 9:30 a.m.–3:00 p.m. (1/2 hour lunch break) • $60 • plus $15 supply fee payable to Robin
Ok, you may not want it to actually snow, but you can have great fun learning how to accomplish a believable snow scene on paper. What colors should the shadows be? How does one paint footprints, or falling snow, or snow-laden branches? Does one paint around the snow or use white paint? What about masking fluid? We'll address these dilemmas and more as we create paintings as fresh as… well, new fallen snow. Your supply fee covers a full sheet of 300 lb. hot press watercolor paper and several color reference photos. We'll do some exercises on part of that, and you'll create our finished paintings on the remaining half. Bring your usual watercolor supplies, or Click Here to contact Robin for supply suggestions.

–Oil–
Vermeer's Girl with the Pearl Earring in Oil–with Judy Bates
8 classes: Wednesdays Jan. 9 – Feb. 27 • 1:00–4:00 p.m. • $200 • plus $10 for color copy and image transferring materials to be paid to Judy at first class.
Study the beauty of Vermeer's masterpiece The Girl with the Pearl Earring as you learn the methods of the masters of applying sequential layers of oil paint and oil glazes. You will learn the flesh palette and methods of achieving luminous realistic flesh tones both in light and shadow while increasing your understanding of facial anatomy, color, value and intensity. You can then apply these methods to your own work in any subject-matter, but most especially portraits. A color copy of the master work will be provided for you to transfer to your canvas. For painters with some experience to more advanced painters. Please email Judy at judybatesstudio@aol.com upon registration for canvas size and supply list. Click Here to contact Judy upon registration for for canvas size and supply list.

Winter Scenes in Oil Pastel–with Patti Kapral (for adults and home-schooled teens)
8 classes: Saturdays, Jan. 5–Feb. 23 • 10:00 a.m.–12:00 p.m. • $160 all supplies included
In this class we will use the beauty of the winter landscape as a focal point for oil pastel drawings. Each class will explore technique and composition, and there will also be studio time to develop your own oil pastel drawings. All supplies will be included in this class. Click Here to contact Patti with questions.

-Water Media-
Open Studios–with Tracy Budd
8 classes: Mondays, Jan. 7–Feb. 25 • 9:30 a.m.–12:30 p.m. • $180
Lots of painting time with a supportive group of artists! Tracy will meet you where you are in your painting journey and with guidance you will figure out how to "problem solve" your painting. Daily critiques and inspiration everywhere! A great "lead in " to her afternoon class if you want to stay all day! Click Here to contact Tracy with questions.

Painting Basics and Beyond–with Tracy Budd
8 classes: Mondays, Jan. 7–Feb. 25 • 1:00–4:00 p.m. • $200
Have you ever wanted to know more about the wonderful medium of acrylics? Tracy will teach the basic properties, applications and "how to's" of this oh so versatile medium. It can do so many things! Color, value, texture making, composition and shape making are all on the list! Winter is a great time to immerse yourself into a world of creativity and something new! Tracy will demo weekly and critique. Come join this lively group! Click Here to contact Tracy with questions.

Experimental Water Media–with Vera Dickerson
8 classes: Tuesdays • Jan. 8–Feb. 26 • 1:00–4:00 p.m. • Same class Thursdays • Jan. 10–Feb. 28 • 1:00–4:00 p.m. • $200
THE NARRATIVE IN ART has been a theme through the ages. While not an illustration, this selection of theme awakens the imagination in painter and viewer, pulls in each memory to identify and bond with the "story" behind the image, though each person brings their own vision. Find your personal history and a strong way in which to state it through composition, choices of image and mood created. Demos and critiques. Click Here to contact Vera with questions.

Painting–Independent Study–with Jane Winders Frank
8 classes: Thursday, Jan. 10–Feb. 28 • 9:00 a.m.–12:00 p.m. • $200
Renew your creativity and bring fresh ideas for new paintings or seek solutions for painting problems. Jane begins each class with information on new materials, art magazines and art history to help generate ideas. She helps you set goals and work through the stages of your painting. Bring watermedia supplies to first class. Click Here to contact Jane with questions.

-NEW Classes in Collage, Printmaking and Encaustics-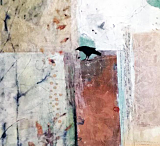 Compositional Strategies and the Elements of Art (Open Studio)–with Gina Louthian-Stanley
5 classes: Mondays, Jan. 7–Feb. 4 • 5:30–8:30 p.m. • $150.00 plus a $40.00 Supply fee to Gina (for papers, canvas, and scratchboard/tools, and other various provided class materials, and a folio of class notes.)
Don't know where to begin? Learn the basics of Composition and the Elements of Art using varied techniques and exercises to strengthen the 'Artists Eye' using various mediums. In this relaxed atmosphere, come learn the basics, explore your creative voice and develop your own visual language. We will also be critiquing famous works of art that relate to the elements. Click Here to contact Gina with questions and materials list.

Incorporating Collage Elements Into Your Artwork–with Patti Kapral
8 classes: Thursdays, Jan. 10–Feb. 28 • 2:00–4:00 p.m. • $180 all supplies included
In this class we will focus on new ways to add collage elements into your work such as montage, printmaking, and using unconventional materials and methods. This is a perfect way to finally figure out what to do with drawings, paintings, or other works that just did not work out. A new process or technique will be introduced in each class, and should be a lot of fun! All supplies included, but you will need to supply your own unfinished works if you have them, and you may also want to use your own collage materials. Click Here to contact Patti with questions.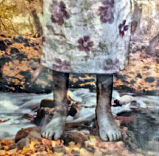 Encaustic: Photos, Drawings & Image Transfers–with Gina Louthian-Stanley
1 class: Saturday, Feb. 16 • 10:00 a.m.-3:00 p.m. • $80.00 plus a $30.00 material fee payable to Gina
Transferring photographs, images, and drawings onto wax gives crisp magical look or a beautifully rustic effect depending on a few simple choices. Gina will also show you how to transfer drawings directly onto your wax. We'll use a torch to fuse these so if you're not familiar with using one you'll learn that too. (No, worries, heat guns are available if the torch is not for you.) Bring laser copies no larger than 4"x 6" and other images you'd like to embed. Encaustic waxes and tools provided. Click Here to contact Gina for materials list. Class limit 8. Beginners and advanced students welcome.

Printmaking–Geli-Print–with Gina Louthian-Stanley
2 classes, Mondays, March 4 and 11 • 5:30–7:30 p.m. • $95 • (Geli plates, brayers, and deli paper provided.)
The Gelli Plate is a tool that encourages freedom of expression using the Elements of Art. Explore making colorful designed papers, prints and more using various papers and tools. These printed papers can be used in a variety of ways, or matted and framed as they are. Click Here to contact Gina for materials list.

And More…
Studio School Summer Workshop 2019
Please join us for a watercolor workshop with Pennsylvania artist Ron Thurston. You can view his paintings at www.ronthurston.net. Dates are Tues. June 25–Fri. June 28. Fee is $380, with a deposit of $180 due upon registration and the balance of $200 due by April 10. Deposits only refunded if there is a waiting list. Easel Society Members may register during the month of Dec. 2018. Everyone else may register after Jan. 1, 2019.