Winter 2024
ART CLASSES
Please consider making a donation to our school to help us weather this time. Any amount would be appreciated. We are a 501c3 non-profit.
Click Here for more information.
Winner of the 2019 Perry F. Kendig Award,
Arts & Cultural Organization
Welcome

to

the

Studio

School

in

Roanoke,

Va.
We are a non-profit art organization with a 30+ year history of offering creative classes for all ages and all levels of experience. Our instructors are among the area's best-known artists and they offer a wealth of knowledge, guidance and inspiration.
Our classes range from one- or two-day sessions to eight weeks and beyond. You'll find offerings for children, teens, and adults in media such as drawing, watercolor, acrylic, encaustic, mixed media, and more.
We are located on the upper level of Towers Shopping Center in Roanoke, inside the mall area, just steps away from the Wildflower Restaurant. Whether you are discovering art for the first time or are continuing your artistic journey, Studio School classes provide an informal, fun and inspiring way to explore the joy of creativity.
To register for classes online and pay by credit card click on the

button.
See below to contact class instructors, either by clicking the Contact link or via phone.

All phone numbers are 540 area code
Tracy Budd • Contact • 556-8770
Vera M. Dickerson • Contact • 204-1914
Jane Winders Frank • Contact • 580-6866
Patti Kapral • Contact • 815-2214
Brett LaGue • brett@brettlague.com • 797-4492
Robin Poteet • Contact • 384-5022
Gina Louthian-Stanley • Contact • 761-1414
If for weather or other reasons a class needs to be canceled or postponed, your instructor will contact you in advance via email or phone.
Visit us on Facebook at thestudioschoolroanoke.
Be an Art Angel
If you have some time to give, we would be grateful for any help you can provide, be it helping to organize and hang our school shows, keeping our parking lot tidy, or helping with general cleaning now and then! Click Here to contact instructor, Patti Kapral if you have a bit of time and effort you can donate.
The Studio School is an incorporated non-profit organization, (501.C.3) with programs partially funded through the Virginia Commission for the Arts. It does not discriminate on the basis of race, gender, ethnicity, and socioeconomic status, sexual orientation, political affiliation, ability or disability. Easel Society Contributors of $250 or more will receive end of the year summaries for their records.
Click Here for a printable Winter Registration Form (form will open in an new window or tab).
Winter Youth Classes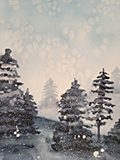 Baby It's Cold Outside—with Patti Kapral
Ages 5-9 • Tuesdays, January 16–February 6 • 5:00 p.m.–6:30 p.m. • $100 (all supplies included)
Winter is the perfect season for painting (as long as it's indoors, right?) We will learn all about how to paint various snow scenes in different media, from pastel to watercolor to acrylic!
All supplies are included in this 4 week class, and space is limited so register early! Makes a great gift!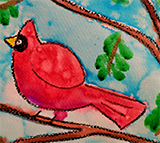 Winter Cardinal Watercolor — with Patti Kapral
Ages 7-12 • Saturday, January 27 • 10:00 a.m.–11:30 a.m. • $45 (all supplies included)
In this one morning Saturday workshop for children, we will learn how to draw a cardinal, and then incorporate that knowledge into a whimsical watercolor snow scene.
All supplies are included in this workshop, and space is limited, so register early!Makes a great gift!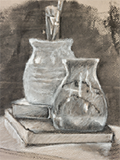 Drawing Demystified — with Patti Kapral
Ages 10-14 • Tuesdays, February 13–March 5 • 5:00 p.m.– 6:30 p.m. • $100 (all supplies included)
In this class students will learn the process of "blocking" to build more complex subjects/objects. We will practice using charcoal, drawing basic shapes, and from there, create a complex still life with value. Each class will start off with short drawing exercises unlocking the secret of how to draw confidently. All supplies are included in this 4 week class, and space is limited, so register early! Makes a great gift!

Classes for Adults
Oil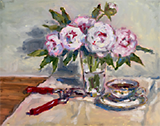 Better Oil Paintings in Six Steps — with Brett LaGue
6 classes: Fridays, February 9–March 15 • 9:30 a.m.–Noon • $230
Take your oil painting abilities to the next level and go from drab to dynamic. Brett covers skills needed for getting better results, in less time. Classes alternate between provided images and still life setups, each chosen based on the week's topic.Taught using the wet on wet technique, also know as alla-prima. Lessons can be applied to other styles of oil painting as well. Good for abstract artists, too. Some oil painting experience is recommended. Email brett@brettlague.com for supplies.

Drawing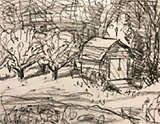 Get Sketching! — with Brett LaGue
3 classes: Fridays, January 19–February 2 • 9:30 a.m.–Noon • $130
Never be intimidated by drawing again. Here's a quick class to help get you sketching while having fun in the process! Brett's a lifelong sketcher who doesn't worry about erasers, straight lines or fussy details. No matter your experience level, he'll show you how to get images down quickly and easily without fuss. Along the way you'll discover that pretty much everything in life deserves to be sketched. Email brett@brettlague.com for supplies.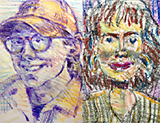 "Hey, That's Me!" — with Brett LaGue
1 class: Saturday, March 23 • 9:30 a.m.–Noon • $75 • Hand mirror and all materials included.
Artists all look to their mirrors at some point for inspiration. At first because it's free and later because the face is ever fascinating, ever changing. This is a class to help you create that self-portrait while getting down on paper what makes you, well, you. A wide variety of materials including colored pencils, charcoal and pastels will help show off your colorful best. Email brett@brettlague.com with questions.

Watercolor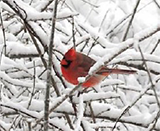 Watercolor in Winter: any color but drab!—with Robin Poteet
6 classes: Wednesdays, January 10– February 21 (No class February 7) • $200
These may be the gray months of winter, but Robin's 6-week session will be alive with color and inspiration! You'll learn how to paint lively winters scenes with a hints of mauve, purple and gold, how to paint footprints in the snow, how to paint snowfall and how to paint snow-laden branches. You'll learn to create ambiance through painting snowy evenings with candlelit interiors and glowing fireplaces. Robin provides photos for those that want to paint along, but students are always welcome to paint their own subjects. Click Here to contact Robin for suggested supplies.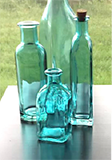 Painting Glass—with Robin Poteet
2 classes: Friday & Saturday, March 8–9 • 9:30 a.m.–12:30 p.m. • $85
So, how does one go about capturing the transparency, reflection and nuance of glass?… find out in this two day class! Robin will supply one or two photos of glass for everyone to work from, plus there will be actual glass objects on your work tables for first hand study. We'll explore the myriad of shapes in reflections, how light fractures surfaces and how we can use color to enliven what we perceive as gray. This is a great springboard for still life paintings. Click Here to contact Robin with questions.

Watermedia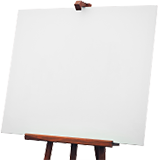 Recycle And Gain A Superior Canvas—with Vera Dickerson
2 classes: Thursdays, January 4–11 • 9:30 a.m.–Noon • $70
Winter is a time to be productive in the studio, and here is a great opportunity to use wonderful custom hand built wooden braced stretchers with unprimed cotton duck, and learn how to stretch your own canvases. If you have priced stretched canvases larger than 36 inches, you know they are expensive. The smallest of these I have is 24" x 42". Each artist will receive a stretcher, (variety of sizes, but all rectangular ) and canvas cut to fit. These come with good karma, from the artist who donated them. Bring a house trim brush, white gesso and a staple gun, extra staples. First class is stretching and priming, followed by time to develop your image. Limited to 10 people. Supply fee to Vera–$40 cash or check. Click Here to contact Vera with questions.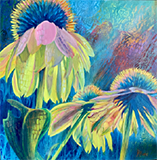 Critique Class—with Tracy Budd
4 classes: January 8, 22 & February 5, 19 • 11:00 a.m.–12:30 p.m. • $100
Calling all artists!
Critique may be the most important part of art making. Come share your projects in a supportive environment full of creative energy and ideas, to work through the "problem solving" stage of your painting. Tracy will help you work out the problems in your work and with fresh eyes, Tracy and the group of working artists can really help you develop and validate your ideas when you are stuck. All mediums welcome! Come join the fun! Click Here to contact Tracy with questions.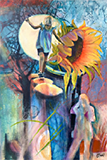 Developing Your Creative Ideas–Working in a Series—with Tracy Budd
8 classes: Mondays, January 8–February 26 • 1:00 p.m.–4:00 p.m. • $260
One great idea can lead to another! Working in a series is the best way an artist can fine tune their voice, identify their intentions and find the direction they want their work to go. Tracy will help you identify your path in your series, from concept to completion! Sharing our creative thoughts and how to put them into paint is even better in a group. Weekly demos in watermedia and critiques. What will your series be? Come join the artistic energy that will get you painting! All levels welcome. Click Here to contact Tracy for a supply list.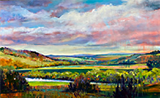 Experimental Water Media—with Vera Dickerson
8 classes: Tuesdays, January 9–February 27 • Same classes: Thursdays, January 11–February 29 • 1:00 p.m.–4:00 p.m. (Same time for both classes) • $260
Let's make Winter a time to focus and paint! If you take the Thursday morning short class with prep of a large canvas, use that surface. If not, plan to work larger than your usual size range. We will discuss how to make a large area visually entertaining, how the energy of strokes, value contrasts and color choices can involve the viewer and strengthen your painting. Acrylics the primary medium, although you may add collage, stamping and other elements. Demos and critiques. Click Here to contact Vera with questions.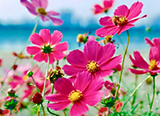 20 MINUTE PAINTINGS! …One Day Workshop—with Tracy Budd
1 class: Monday, March 4 • 9:30 a.m.–2:00 p.m. • $75
In this one day workshop, we will paint "quick" 20 minute paintings, bringing back and capturing the essence of our subjects in an energetic painting session. We will only have time to record the most important information about the subjects we develop. Great exercise for identifying value and important nuances of your subject because we are working quickly! Tracy will choose a variety of subjects and perimeters for each small painting we do. Some may be finished "alla prima" work and others may be studies for future paintings. The last hour we will revisit our stack of paintings and tweak and critique! Everyone welcome. Sound like fun? Grab your paints and meet Tracy on March 4th at The Studio School! Click Here to contact Tracy for a supply list.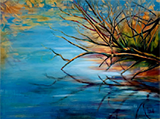 Bringing The Light–Working From Dark To Light on a Brightly Toned Canvas—with Tracy Budd
One Day Workshop: Monday, January 11 • 9:30 a.m.–2:00 p.m. • $75
Working on an intense underpainting, we will work our acrylic layers from dark to light, until our values work and our colors sing! Paintings will be organic in nature and painted on a medium size canvas! We will accomplish a lot in this one day workshop and all levels are welcome. It will be a fun , step by step painting session! Come paint a painting with Tracy! Click Here to contact Tracy for a supply list.

Mixed Media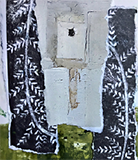 Compositional Strategies and the Elements of Art (Open Studio)—with Gina Louthian-Stanley
6 classes: Thursdays, February 1–March 7 • 9:30 a.m.–Noon • $225
Don't know where to begin? Learn the basics of Composition and the Elements of Art using varied techniques and exercises to strengthen the 'Artists Eye' using various mediums. Come learn the basics, explore your creative voice and develop your own visual language. We will also be critiquing famous works of art that relate to the elements. Great for starting your creative journey or add to your current toolbox. Please email Gina to let her know you registered, a materials list supplied upon registration. Click Here to contact Gina to let her know you registered and ask questions, a materials list supplied upon registration. (Gina will share a few supplies each week.)

Painting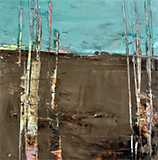 Cold Wax and Oil—with Gina Louthian-Stanley
2 days: February 10–11 • 10:00 a.m.–3:00 p.m. • $295
Discover the beautiful layers, textures, and marks that only oil and cold wax can achieve finding inspiration within your own marks, compositions and intuition. We will explore various techniques such as working methods, substrates, drying times, opaque and transparent color, pigments and powders, blending, color schemes, glazing, solvent reduction, transfer and printmaking techniques, creating textures, adding collage and more. Plenty of demos and individual discussions, and advanced techniques for prior participants. All skill levels would benefit from this class, especially beginners. Gina will provide cold wax, a plethora of tools, and R&F pigment sticks for class use, samples of Arches Oil paper. Click Here to contact Gina prior to class for the full materials list.

Diego Sanchez

 —

2024 Workshop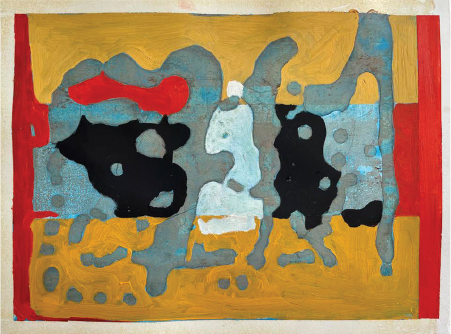 The Studio School is pleased to welcome Diego Sanchez as our 2024 Summer Workshop instructor. Diego is an accomplished artist, as well as a seasoned instructor and juror.
In his own words, "This body of work continues to reflect my interest in finding a comfortable place between representational and non-representational elements in the picture plane."
The workshop will be held at The Studio School
Tuesday–Friday • June 25–28 • 9:00 a.m.–4:00 p.m.
Total cost is $450
Those that have paid their 2024 Easel Society dues may register for the workshop beginning December 1st. A deposit by check for $200 will reserve your space. All others may begin registering with their deposit January 2nd. The balance of $250 is due on April 10, 2024.
Mail all workshop checks to:
Jane Winders Frank
3040 McVitty Forest Drive, #207
Roanoke, VA 24018