CONTACT
David Eakin
Spring/Summer Adult Classes
August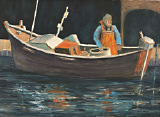 Introduction to Gouache—with David Eakin
Saturday, August 7 • 10:00 a.m.–4:00 p.m. • $65 plus, $10 supply fee to David
Lynchburg artist, David Eakin is offering a one-day introduction to gouache. A favorite media of designers and illustrators, gouache is an opaque cousin to traditional watercolor. David will demo and explain the uses of gouache on paper, plus, color mixing and layering to build up the image. Different papers will be provided as well as a sampling of colors to use in class. Bring your usual watercolor brushes, pencil, eraser and a plastic plate as a palette. If you have gouache, please bring also. Use form at left to contact David for more information.