Fall 2023
ART CLASSES
Please consider making a donation to our school to help us weather this time. Any amount would be appreciated. We are a 501c3 non-profit.
Click Here for more information.
Winner of the 2019 Perry F. Kendig Award,
Arts & Cultural Organization
Welcome

to

the

Studio

School

in

Roanoke,

Va.
We are a non-profit art organization with a 30+ year history of offering creative classes for all ages and all levels of experience. Our instructors are among the area's best-known artists and they offer a wealth of knowledge, guidance and inspiration.
Our classes range from one- or two-day sessions to eight weeks and beyond. You'll find offerings for children, teens, and adults in media such as drawing, watercolor, acrylic, encaustic, mixed media, and more.
We are located on the upper level of Towers Shopping Center in Roanoke, inside the mall area, just steps away from the Wildflower Restaurant. Whether you are discovering art for the first time or are continuing your artistic journey, Studio School classes provide an informal, fun and inspiring way to explore the joy of creativity.
To register for classes online and pay by credit card click on the

button.
See below to contact class instructors, either by clicking the Contact link or via phone.

All phone numbers are 540 area code
Tracy Budd • Contact • 556-8770
Vera M. Dickerson • Contact • 204-1914
Jane Winders Frank • Contact • 580-6866
Patti Kapral • Contact • 815-2214
Brett LaGue • brett@brettlague.com • 797-4492
Robin Poteet • Contact • 384-5022
Gina Louthian-Stanley • Contact • 761-1414
If for weather or other reasons a class needs to be canceled or postponed, your instructor will contact you in advance via email or phone.
Visit us on Facebook at thestudioschoolroanoke.
Be an Art Angel
If you have some time to give, we would be grateful for any help you can provide, be it helping to organize and hang our school shows, keeping our parking lot tidy, or helping with general cleaning now and then! Click Here to contact instructor, Patti Kapral if you have a bit of time and effort you can donate.
The Studio School is an incorporated non-profit organization, (501.C.3) with programs partially funded through the Virginia Commission for the Arts. It does not discriminate on the basis of race, gender, ethnicity, and socioeconomic status, sexual orientation, political affiliation, ability or disability. Easel Society Contributors of $250 or more will receive end of the year summaries for their records.
Click Here for a printable Fall Registration Form (form will open in an new window or tab).
Fall Youth Classes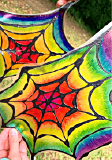 Falling in Love with Art — with Patti Kapral
Ages 5-9–Tuesdays, September–October 10 • 5:00 p.m.–6:30 p.m.– $150 (all supplies included)
Fall in love with art! In this class, we will explore lots of different ways to create art while using Fall themes. Children will enjoy the process of artmaking, and learn about the elements of art—they won't even realize they are learning! All supplies are included in this fun class, and space is limited so register early to claim your kiddo a spot!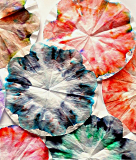 Whoa! That's So Cool! — with Patti Kapral
Ages 10-14 • Tuesdays, October 17, 24, November 7, 14, 28 & December 5 • 5:00 p.m.–6:30 p.m. • $150 (all supplies included)
In this class designed for older kids, we will learn some really cool techniques for creating art using nontraditional tools and objects such as glue guns, rocks, food, and other cool things! This class will be more like a science lab than an art studio, seeing the reactions of putting different mediums together and figuring out which ways to use a tool are the most effective. Great for kids who are excited by experimenting! All supplies are included, and space is limited, so register your lab assistant early!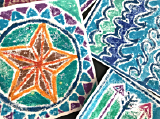 Sandpaper Crayon Monoprints — with Patti Kapral
Ages 8-14 • Saturday, October 28 • 10:00 a.m.–1:30 a.m. • $45 (all supplies included)
In this one day workshop, we will create some monoprints using crayons, sandpaper, and an iron. Students will get to create their own personal designs, see the process of creating a monoprint, and put one of their designs on a tshirt! This all supplies included class will fill up super fast, so register early!

Classes for Adults



Oil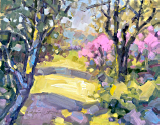 Oil Painting Basics — with Brett LaGue This class is full
6 classes: Saturdays, October 28–December 9 (No class November 25) • 9:30 a.m.–Noon • $230
It's easier than you think! Discover your creative side with oils. Plenty of instruction and demos points you towards success with this traditional and flexible medium.Work quickly or slowly, thick or thin—whatever works best for you. Learn about tools, color mixing, composition, glazing techniques, direct painting and more, using provided images, and a still life, to help understand each class. Even if you've never painted before, oil painting is a great place to start. Email brett@brettlague.com for supplies.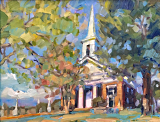 Continuing Oil Painting — with Brett LaGue
6 classes: Fridays, October–December 8 (No class November 24) • 9:30 a.m.–Noon • $230
Improve your painting skills. Every painter has areas they struggle with—this is the perfect time to get past those hurdles to be ready for the new year. Classes alternate between your images, provided images and still life setups. If you're ready to create more colorful and engaging paintings, this class is for you. Taught using the wet on wet technique, also know as alla-prima. What you learn can be applied to any style of oil painting. Good for both representational and abstract artists. Suitable for those with some oil painting experience. Email brett@brettlague.com for supplies.

Drawing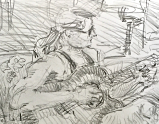 Drawing, the Sketcher's Way — with Brett LaGue
3 classes: Fridays, September 15, 22 & 29 • 9:30 a.m–Noon • $130
Struggling to get those paintings started? Intimidated by drawing? Here's a quick class to help get you going. Brett's a lifelong sketcher who doesn't worry about erasers, straight lines or fussy details. No matter your experience level, he'll show you how to get images down quickly and easily without worry. Along the way you'll discover that pretty much everything in life is sketch worthy! Email brett@brettlague.com for supplies.

Watercolor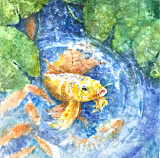 Watercolor With Confidence! — with Robin Poteet
8 classes: Wednesdays, September 13 – November 8 (No class October 11) • Morning class: 9:30 a.m.–12:30 p.m. • Afternoon class: 1:00 p.m.–4:00 p.m. • $250
When we feel confident about our painting process it shows in our brushwork, in our value and color choices and in the way we portray depth and atmosphere. Confidence makes the painting process more FUN and more expressive and Robin will show you ways to develop that "just go for it" attitude. Along with instruction on watercolor technique, this class will be filled with demos, group exercises and "imagination stretchers". On occasion, photos will be provided, but there is always ample time to paint from your own subjects. Click Here to contact Robin with questions.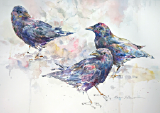 Red, Yellow, Blue — THAT'S IT! — with Robin Poteet This class is full
1 day class: Wednesday, December 6 • 9:30 a.m.–2:00 p.m. • $75
In theory, we can create just about every color by using just the three primary colors–Red,Yellow and Blue. The catch is choosing the "right combinations" or hues of those three colors to achieve the outcome you want. That's exactly what we'll explore in this eyeopening class! Through a combination of Robin's provided photos and your own subjects, you'll practice using a limited palette to create a number of small paintings that are amazingly diverse, yet unified. Click Here to contact Robin with questions.
Watermedia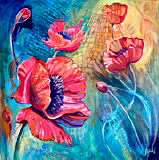 Critique Class — with Tracy Budd
4 classes: Mondays, September 11, 25 & October 9, 23 • 11:00 a.m.–12:30 p.m. • $100
Calling all artists and mediums.
Critique may be the most important and useful tool in your art making journey. Come share your projects in a supportive environment full of energy and lots of ideas in the "problem solving" stage of painting. Tracy will help you work through your problems in your art and having fresh eyes on your work can really help you develop and validate your ideas when you are stuck. Everyone welcome! Click Here to contact Tracy with questions.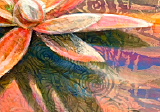 Simple Subjects/Negative Shapes on Crazy Yupo Paper — with Tracy Budd
8 classes: Mondays, September 11–October 30 • 1:00 p.m.–4:00 p.m • $260 • (Two sheets of Yupo Paper included)
Learn many techniques in acrylic layering and shape making in this 8 week class. We will stencil, scrape, pour, draw and manipulate this ever so interesting and evasive surface known as Yupo Paper. Yupo is a plastic watercolor paper that makes a fabulous textured surface. It takes acrylic beautifully and is so fun to work on.We will reveal the crazy, interesting surface we have created in our positive and negative shapes. Layering is the key here. Come join the fun! Click Here to contact Tracy for a supply list.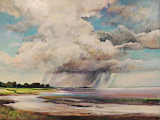 Develop an Artist's Backbone — Experimental Watermedia — with Vera Dickerson
8 classes: Tuesdays, September 19–November 8 (No class October 16) • Same classes: Thursdays, September 21–November 10 (No class October 18) • 1:00 p.m.–4:00 p.m. • (Same time for both classes) • $260
Composition is the structure that holds a painting together and directs the viewer's eye to become involved in our creation. The class will focus on how we organize and gently nudge taking steps out of the comfort zone of one's usual way of painting. Subject matter is individual choice. Acrylics and other water media. Demos and critiques. Click Here to contact Vera with questions.

Mixed Media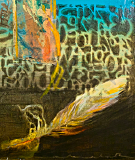 Groovy Geli Print Paper — with Tracy Budd
One day workshop: October 3 • 9:00 a.m.–12:30 p.m. • $60
Making papers for mixed media takes time and this one day class is a precursor to the four week collage class that starts the next week. The geli printer is a thick piece of gel on which we can create mono prints on different types of papers using paints, mark makers and stencils. You can never have enough handmade paper that is uniquely yours to incorporate into your paintings and collages. Tracy will bring and share a lot of her collage gatherings and together we will create papers! Click Here to contact Tracy for a supply list.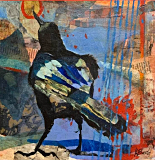 "Something to Crow About" Layering Techniques in Collage — with Tracy Budd
4 classes: Tuesdays, October 10–31 • 9:30 a.m.–12:30 p.m. • $145
Collage is a versatile and oh so fun medium which is very tactile and wonderful for our composition making in our art. We will make paper, gather, cut compose and layer with some new techniques for collage Tracy has to share. Crows will be the focus, but other images will emerge as well. Lots and lots of fun!! Click Here to contact Tracy for a supply list.

Learn about Gouache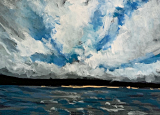 Introduction to Gouache — with guest artist David Eakin
1 class: Saturday, September 23 • 10:00 a.m.–3:30 p.m. • $65 (plus, $10 supply fee to David)
Lynchburg artist, David Eakin is offering a one-day introduction to gouache. A favorite media of designers and illustrators, gouache is an opaque cousin to traditional watercolor. David will demo and explain the uses of gouache on paper, plus, color mixing and layering to build up the image. Different papers will be provided as well as a sampling of colors in a small palette to use in class. Bring your usual watercolor brushes, pencil, eraser, etc. If you have gouache, please bring also. Bring supplies that make you feel comfortable! For more information, email David at: dreakin57@gmail.com
Diego Sanchez

 —

2024 Workshop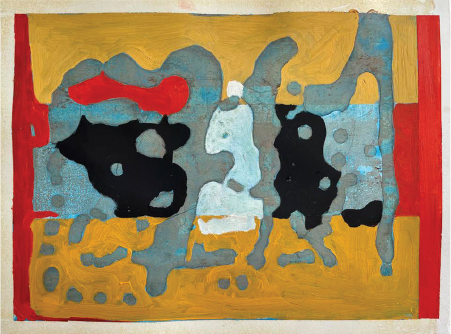 The Studio School is pleased to welcome Diego Sanchez as our 2024 Summer Workshop instructor. Diego is an accomplished artist, as well as a seasoned instructor and juror.
In his own words, "This body of work continues to reflect my interest in finding a comfortable place between representational and non-representational elements in the picture plane."
The workshop will be held at The Studio School
Tuesday–Friday • June 25–28 • 9:00 a.m.–4:00 p.m.
Total cost is $450
Those that have paid their 2024 Easel Society dues may register for the workshop beginning December 1st. A deposit by check for $200 will reserve your space. All others may begin registering with their deposit January 2nd. The balance of $250 is due on April 10, 2024.
Mail all workshop checks to:
Jane Winders Frank
3040 McVitty Forest Drive, #207
Roanoke, VA 24018