Children's Art Classes
Not Just A Coloring Book!
Please look at the Class registration page to register for Children's Classes. 
The Studio School offers the cultivation of creativity with Children's and Teen Art Classes! Geared towards children and teens of all ages, needs, and artistic levels, our Children's/Teen Art Classes combine artistic technique for authentic self-expression.
We provide an educational children's artistic experience that inspire the artist within!
Young artists will explore many facets of creating art. Lessons may include ( but are not limited to) a lesson of an old Master, such as Matisse, an art demonstration covering techniques in drawing with a variety of artist tools, (pencils, charcoal, pen and ink, watercolor, tempera, and acrylic) as well as a variety of techniques, (printmaking, painting, sketching, and drawing.)
Additionally our instructors work with each young artist so they given the opportunity to discover more about his or her creative interests by
exploring their own ideas while also learning about composition and design. Our instructors are professional artists and educators, most are endorsed pre-k through 12 to teach Art!
Winter Classes for Children & Teens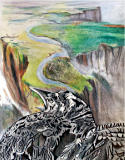 Drawing for Teens (ages 10-14)—Perspective Drawing–with Gina Louthian-Stanley
3 Classes: Saturdays, Jan. 5, 12, and 19 • 10:00–11:30 a.m. • $85.00
This class will focus on 1-pt, 2-pt, and 3-pt perspective. We will have a class project using a perspective of choice. Students need to bring a 11 X 14 Canson Mixed Media Sketchbook, a set of drawing pencils (2B, 4B, 6B, HB, B, 2H 4H, 6H), drawing erasers, and a small set of Prismacolor Color pencils along with a pencil sharpener that will hold shavings. Gina will supply a folio of notes and other materials included in the class fee. Click Here to contact Gina with questions.

Exploring The Process (ages 5 and up)–with Patti Kapral
8 classes: Tuesdays, Jan. 8–Feb. 26 • 5:00–6:30 p.m. • $150.00–all supplies included!
Exploring The Process is a class for children that will focus on different processes for creativity, such as collage, printmating, pour painting, and other techniques and processes. This class will be more centered on experimentation and not so much worried about the end result. Each class will explore a new process. All supplies included, but students may wish to have a smock or old shirt because the creative process can sometimes be very messy! Expect a whole lot of fun in this class! Click Here to contact Patti with questions.

Children's Exploration in Studio Art!–with Gina Louthian-Stanley
Messy Mixed Media! (ages 8–14) • 3 classes: Saturdays, March 16, 23, 30 • 10:00 a.m.–12:00 p.m. • $90.00 • $35.00 supply fee to Gina
Different methods and mediums will be taught each class in projects that encourage students to express themselves, to make independent choices and evaluations of their work, to develop fine motor skills in age-appropriate ways, and to approach their art-making with a sense of fun and appreciation of art. Each session of Messy Mixed Media is different, but frequent activities will include activities working from still life, photographs, images from art history and/or independent themes and ideas, students will be introduced to specific drawing and painting fundamentals and techniques. These include line drawing, value, shape, pattern, texture, shading, highlighting, color perspective and collage. While experimenting with an exciting variety of artist's tools, mediums and techniques, students will learn to explore and trust their creative instincts. Gina will have everything you need! Click Here to contact Gina with questions.

Spring Classes for Children & Teens
Children's Art Explorer–with Patti Kapral
8 sessions, Mondays, March 4–April 22 • 5:00 p.m.–6:30 p.m. • $180 • All supplies included
This class will be for students age 5-12. Kids will be introduced to all forms of 2D media, and even a little bit of 3D. All supplies will be furnished. This is a great introduction into studio art for kids who are creative! Click Here to contact Patti with questions.

-Oil Painting-


Patti Kapral is also offering two oil pastel classes that are open to teens and adults.
Blooming All Over in Oil Pastel–with Patti Kapral
Six classes:Thursday evenings, March 7th–April 11th • 6:00 p.m.–8:00 p.m. • $160 • All supplies included
Come celebrate the Spring season with a class that will focus on bright blooms in Oil Pastels. We will create beautiful pastels of all kinds of flowers, and utilize many techniques. This class is great for the beginner as well as the experienced artist. All supplies will be included. Click Here to contact Patti with questions.

Unconventional Oil Pastel–with Patti Kapral
Six classes: Tuesday evenings, March 5th–April 9th • 6:00 p.m.–8:00 p.m. • $160 • All supplies included
This class will explore some unconventional ways to use oil pastel and incorporate some other media with oil pastel. If you're curious how to mix this medium into your work in different ways other than strictly drawing, then check this out! All supplies will be furnished. Click Here to contact Patti with questions.

Weather Policy: If Roanoke City Schools are: Delayed 1 hour, morning classes are delayed 1 hour. Delayed 2 hours, morning classes are canceled. Canceled, all our classes are canceled. Evening classes are canceled if bad weather persists or becomes more hazardous during the afternoon hours.