Children's Art Classes
Not Just A Coloring Book!
Please look at the Class registration page to register for Children's Classes, or use the Register buttons below. 
The Studio School offers the cultivation of creativity with Children's and Teen Art Classes! Geared towards children and teens of all ages, needs, and artistic levels, our Children's/Teen Art Classes combine artistic technique for authentic self-expression.
We provide an educational children's artistic experience that inspire the artist within!
Young artists will explore many facets of creating art. Lessons may include ( but are not limited to) a lesson of an old Master, such as Matisse, an art demonstration covering techniques in drawing with a variety of artist tools, (pencils, charcoal, pen and ink, watercolor, tempera, and acrylic) as well as a variety of techniques, (printmaking, painting, sketching, and drawing.)
Additionally our instructors work with each young artist so they given the opportunity to discover more about his or her creative interests by exploring their own ideas while also learning about composition and design. Our instructors are professional artists and educators, most are endorsed pre-k through 12 to teach Art!
Fall 2022 Classes for Children & Teens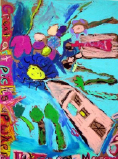 Channeling Chagal—with Patti Kapral
Ages 5-9 • Tuesdays, September 13–October 18 (six classes) • 5:00 p.m.–6:30 p.m. • $150 (all supplies included)
In this class, we will learn about the artist Marc Chagal and his surreal, dreamlike paintings such as "I and The Village". We will then create art works inspired by his use of color and dreamlike imagery. Using watercolor and oil pastels, the students will discover fun and unorthodox ways of creating powerful compositions. All supplies for this class are included in the class price! Space is limited in this fun, process oriented art class, so register early! Click Here to contact Patti with questions.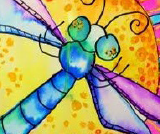 Zooming In On Bugs—with Patti Kapral
Ages 10-14 • Tuesdays, October 25–December 6 • 5:00 p.m.–6:30 p.m. • $150 (all supplies included)
Kids love bugs! This class will "zoom in" on their fascination with all types of creepy crawlies and use them to create an absolutely gorgeous oil pastel of their favorite bug zoomed in and up close! We will also talk about what make a bug so interesting, and discuss whether a bug needs to be painted in realistic color or arbitrary color. All suppliers are included in this exciting class, and space is limited, so register early! Click Here to contact Patti with questions.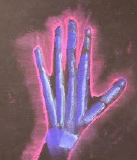 Spooky Skeletons—with Patti Kapral (oil pastel)
Ages 8-14 • Saturday, October 29 • 10:00 a.m.–11:30 a.m. • $45 (all supplies included)
Just in time for the spooky season of Halloween, we will make an x-ray styled soft pastel drawing of our hand, learning about all the bones in you hand and wrist! (there are 27 bones!) This is sure to be a spooky good time, with Halloween music and some other treats for the students! All supplies are included and space is limited, so register early! Click Here to contact Patti with questions.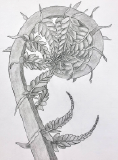 Basic Drawing for Children—with Gina Louthian-Stanley
Ages 13 and up • Mondays, November 14 & 21, December 5 & 12 • 5:30 p.m.—7:00 p.m. • $150
In this 4-week class, we will explore exercises and very basic fundamentals and techniques of drawing, encouraging us how to 'see'. We will begin with contour and gesture drawings, value studies, form, negative and positive space, and perspective (if time allows). Some time outside of class will be needed.
Students will need to bring an 11" x 14" drawing sketchbook.The Canson or Strathmore 300 to 400 series is preferred, a set of drawing pencils (H, B, 2B, 4B, 2H, 4H), a white hard rubber or kneaded eraser, paper stumps (tortillions), a ruler, and a pencil sharpener that holds shavings. Gina will supply other items as needed and a folio of notes. Click Here to contact Gina with questions and to confirm registration. Needs 4 to make, limit 10.

Santa Canvas Painting—with Patti Kapral
Ages 5-9 • Saturday, December 3 • 10:00 a.m.–11:30 a.m. • $45 (all supplies included)
The saying in my house is "If you don't believe, you don't receive"—and my kiddos are all grown up! Everyone loves Santa, and so in this class we will learn how to draw a cute Santa portrait and then paint him on canvas. There will be holiday music and treats for all the students as well. All supplies are included in this jolly good workshop, and space is limited so register early! Click Here to contact Patti with questions.

Weather Policy: If Roanoke City Schools are: Delayed 1 hour, morning classes are delayed 1 hour. Delayed 2 hours, morning classes are canceled. Canceled, all our classes are canceled. Evening classes are canceled if bad weather persists or becomes more hazardous during the afternoon hours.