Easel Society
As an easel supports a painting, the members of The Easel Society support The Studio School. Membership is offered to students, their families and community members.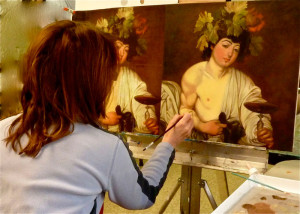 As a non-profit, The Studio School aspires to bring art exposure to our community wherever/whenever we can. Like most non-profits, we operate on a shoestring budget, so we are MOST appreciative of your financial support—it helps us keep class fees down, supports local art programs, and enables us to offer workshops by leading national known instructors.
Easel Society members receive advance notice of trips, art events, and shows, discounted rates on selected programs, reduced rate on 'Art Blast' with advance notice, and more.
Your gift is tax-deductible. The Studio School is a non-profit organization with 501.c.3 tax-exempt status. Contributors will receive end of the year summaries for their records.
Corporate Memberships are available.
The Easel Society also oversees a program of Annual and One-time Gifts.
Those who help underwrite special events are recognized in publicity about that event.
Annual Easel Society dues are due by December 1st for the following year. Dues levels are:
Basic $35
Sketchbook $36 to $99
Portfolio Circle $100 to $249
Juror's Choice Circle $250 to $499
Best in Show Circle $500 to $999
National Treasure Circle $1000 +
Dues and donations are much appreciated anytime during the year, but are not prorated. Memberships for the following year are always due by December 1st.
When paying Easel Society dues, please make a separate check payable to The Easel Society and mail it to:
Treasurer
The Easel Society
5005 Cave Spring Circle
Roanoke, VA 24018