CONTACT
Gina Louthian-Stanley
Spring Classes for Adults
Mixed Media
Printmaking–Geli-Print–with Gina Louthian-Stanley
2 classes: Mondays, March 9, 16 • 5:30 p.m.–7:30 p.m. • (Geli plates, brayers, card stock, and deli paper provided.) • $100
Come learn the basics of Printmaking! Enjoy demos, use the Elements and Principals of Art to create prints, and explore making your own colorful designed monoprints, papers, and more using various provided papers and tools. Gina will show you a variety of ways, and discuss how to display them. Bring your stamps, stencils, etc, for texturing, acrylic paints, and imagination! ALL levels welcome! Use form at left to contact Gina with questions.

Open Studio Class in Mixed Media and Collage–with Gina Louthian-Stanley
4 classes: Mondays, March 23 and 30, April 6 and 13 • 5:30 p.m.–7:30 p.m. • (includes some materials) • $150.00
This Open Studio Class in Mixed Media and Collage is ideal for cultivation your creative side! We will experiment with mixed media collage and a variety of ways and with a variety of materials (Gina will have some to share). Using the subject matter of your choice we will discuss processes, materials, and mediums. We will also look at composition and the Principals and Elements of Art. The focus is to begin each class with a few demos or exercises to stimulate the creative process, then to continue working to develop your own visual language. Gina is available to give individual input as needed. ALL levels are welcome! Use form at left to contact Gina for a short materials list.

Summer Classes for Adults
August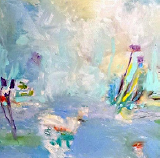 Cold Wax Alchemy and Open Studio Workshop–with Gina Louthian-Stanley
2 days: Saturday, August 8 and Sunday, August 9 • 10:00 a.m.–4:00 p.m. • $250
Explore the endless possibilities of painting with cold wax and oil! Take an intuitive approach into the many uses of luminous cold wax with oil paint, pastel, mark-making tools, brushes, scrapers and more. Composition, color and contrast will be addressed, along with an exploration of visual elements such as line, shape, pattern, texture, form and depth. We will create original pieces and explore effects possible with the oil and cold wax medium by using it as a surface treatment to create completed paintings, collages (including copied photos), and incorporate mixed media by adding oil and cold wax with various 'found' tools. All skill levels would benefit from this class, especially beginners. For previous cold wax participants, Gina will offer critiques, and be there to assist in developing your visual journey. *Bring your oil paints, Arches oil paper, Multimedia board, or recommended 8" x 8" birch board, gesso board, or clayboard panels, an old used gift card, palette paper, wax paper, Wet Ones, and a 12" palette knife or icing spreader. Gina will bring tools to share and several materials for you to try, plus furnish one jar of cold wax. Lunch breaks included. (Needs 4 to make). Use form at left to contact Gina with questions.