CONTACT
Gina Louthian-Stanley
Spring/Summer Adult Classes
Spring Classes March–April–May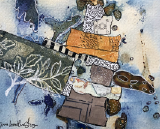 Mixed Media Wabi-Sabi—with Gina Louthian-Stanley
1 class: March 12 • 10:00 a.m.–4:00 p.m. • $80 (plus a $30 material fee)
This is a great way to create enchanting, mystical mixed media pieces! The Wabi-Sabi aesthetic is sometimes described as one of beauty that is "imperfect, impermanent, and incomplete." Embrace the flow of something beautiful during the class. Excellent class for beginners or learn a new way to break that creative funk! Collage papers, permanent pens, various inks and acrylics will be available as well as six 5″ x 5″ sheets of watercolor paper. You'll need to bring several sheets of 140lb watercolor paper (if desired), scissors, and one small bottle of Liquatex or Golden, gel medium matt. (It's suggested that you also bring natural fiber decorative papers, vintage papers, ephemera, patterned paper, handwritten paper, laser copies…your choice! You can never have enough paper!) A lunch break will be included. Use form at left to contact Gina with questions.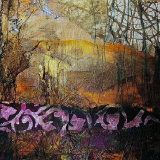 Experimental Drawing, Mixed Media, and Collage—with Gina Louthian-Stanley (watermedia)
4 classes: Mondays April 11–25, May 2 • 5:30 p.m.–7:30 p.m. • $150 (plus a $30 material fee)
It is easy to get stuck in a rut, or not know where to begin; this series of classes is designed to develop an intuitive and experimental approach using traditional materials and methods to inspire new ideas and develop a unique style.You will find that this exploratory method of creating leads to enhanced discovery, expands your creativity, and hones your critical thinking skills using the elements and Principles of Art. We will use graphite, inks, markers, colored pencils, pastels, watercolor, charcoal and more. A great class for all skill levels. Use form at left to contact Gina for questions and more info on materials you can bring (a supply list), as she will have some materials and papers for class use.