CONTACT
Gina Louthian-Stanley
Fall Children & Teens Classes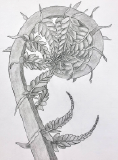 Basic Drawing for Children—with Gina Louthian-Stanley
Ages 13 and up • Mondays, November 14 & 21, December 5 & 12 • 5:30 p.m.—7:00 p.m. • $150
In this 4-week class, we will explore exercises and very basic fundamentals and techniques of drawing, encouraging us how to 'see'. We will begin with contour and gesture drawings, value studies, form, negative and positive space, and perspective (if time allows). Some time outside of class will be needed.
Students will need to bring an 11" x 14" drawing sketchbook.The Canson or Strathmore 300 to 400 series is preferred, a set of drawing pencils (H, B, 2B, 4B, 2H, 4H), a white hard rubber or kneaded eraser, paper stumps (tortillions), a ruler, and a pencil sharpener that holds shavings. Gina will supply other items as needed and a folio of notes. Use form at left to contact Gina with questions and to confirm registration. Needs 4 to make, limit 10.

Fall Adult Classes
Watermedia
Mixed Media Collage 'Wabi-Sabi' Landscapes—with Gina Louthian-Stanley
1 class: Saturday, November 5 • 10:00 a.m.–4:00 p.m. • $85 (plus a $30 material fee for some papers, inks and sprays)
This is a great way to create enchanting, mystical mixed media pieces! The Wabi-Sabi aesthetic is sometimes described as one of beauty
that is "imperfect, impermanent, and incomplete".
Embrace the flow of something beautiful during the class and learn a new way to approach surface design.We will also do a few image transfers. Excellent class for beginners or learn a new way to break that creative funk! Collage papers, permanent pens, various inks and will be available as well as six 5" x 5" sheets of watercolor paper. You'll need to bring a few sheets of 140lb watercolor paper (if you want to create more pieces), scissors, and one small/ medium sized bottle of Liquatex or Golden, gel medium matt and four to six 1/2 inch foam brushes.
(It's suggested that you also bring acrylics, natural fiber decorative papers, vintage papers, ephemera, patterned paper, handwritten paper, laser copies of a few small images… your choice! You can never have enough paper!)
A lunch break will be included. Use form at left to contact Gina with questions and to confirm registration.

Printmaking
Printmaking–Geli Print–with Gina Louthian-Stanley
2 classes: Mondays, October 17 and 24 • 5:30 p.m.–7:30 p.m. • $130
Come learn the basics of Geli Printmaking! Enjoy demos, use the Elements and Principles of Art to create prints, and explore making your own inspiring, colorfully designed monoprints, patterned papers, and more using the various paper samples and classroom tools.
Gina will show several Geli Printing techniques and discuss how to use the completed papers as a standalone print or decorative collage paper. Gina will have card stock, printmaking, and deli paper, cards and envelopes, 5" x 7" Geli plates and brayers to borrow during the class.
Bring your stamps, stencils, etc. for creating images, acrylic paints, extra papers, and your imagination. All levels welcome! Use form at left to contact Gina with questions and to confirm registration.