CONTACT
Jane Winders Frank
Winter Adult Classses
Watermedia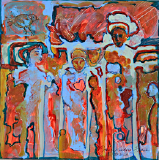 Painting–Independent Study—with Jane Winders Frank
8 classes: Thursday, January 7–February 25 • 9:00 a.m.–noon • $240
Renew your creativity and bring fresh ideas for new paintings or seek solutions for painting problems. Jane begins each class with information on new materials, art magazines, books, and art history to help generate ideas. She helps you set goals and work through the stages of your painting. Bring watermedia supplies to first class. Mixed media elements can be added to your work as desired. Use form at left to contact Jane with questions.