CONTACT
Robin Poteet
Spring/Summer Classes
Spring Classes March–April–May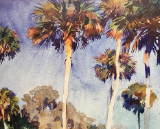 NEW! Exploring Styles—with Robin Poteet (watercolor)
7 classes: Wednesdays, March 16–April 27 • 9:30 a.m.–12:30 p.m. • $245 (includes some materials)
Robin has chosen famous artists with a wide range of styles—from Andrew Wyeth to Picasso. Each week we'll study an artist, examine their painting techniques, composition and color choices, then complete a small painting based on their style. This is a great way to expand your creative thinking, discover new subjects, and master new techniques and materials. You'll gain a sense of what appeals to you most in style and color. Above all, you'll have 7 weeks of FUN and enlightenment as we learn from the masters of painting. Robin will provide additional materials such as collage paper and water media pencils. Use the form at left to contact Robin with questions.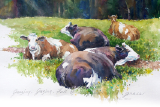 Continuing Watercolor—with Robin Poteet
7 classes: Wednesdays, March 16–April. 27 • 1:00 p.m.–4:00 p.m. • $230
This class is for those that embrace the pure, fluid, and occasionally unpredictable nature of watercolor. By combining technique, knowledge and illusion, we focus on how to work WITH this wonderful media rather than try to control it. Robin encourages you to bring out the best in YOUR painting style and offers guidance through demos, discussion and one-on-one attention. Students may work from their own reference photos, or follow Robin's demos. This is a great class for anyone with general watercolor experience and beyond. Use the form at left to contact Robin with questions.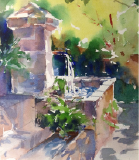 BEGINNERS–Learn to Paint Watercolors—with Robin Poteet
5 classes: Fridays, March 25, April 1, 8, 15, 22 • 9:00 a.m.–Noon • $160
Is learning to paint on your bucket list? Watercolor can be explored and enjoyed at any age, so why not see if this sparks a new hobby or passion?! Watercolor is portable and expressive, and is ideal for travel journals and sketchbooks as well as large, richly detailed paintings. Your class will be packed with demos, discussions and exercises and over the course of 5 weeks you'll gain an understanding of materials, washes, color mixing and technique AND you'll complete paintings each week. This is a no-pressure class that encourages making mistakes so we can figure out how to correct things. Sign up and begin your creative journey! Use the form at left to contact Robin for suggested materials.

Summer Classes–June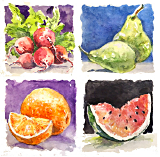 Fruit & Veggie "portraits"—with Robin Poteet (watercolor, gouache, w/c pencil)
2 classes: Thursday and Friday, June 9–10 • 9:00 a.m.–Noon • $80
This mini-class will give you greater appreciation for the things we grow and eat, as well as giving you wonderful painting subjects. When you slice open a melon, look at a peach pit or pick a strawberry, a world of inspiration opens up right in front of you. Robin asks each student to bring a vegetable or fruit to class and well rotate them as we create small paintings or drawings that can be mounted and varnished onto wood panels. There will be demos and discussion on composition, color, background, and technique, with ample time to explore your edible subjects. Watercolor, Gouache and Watercolor Pencils. Use the form at left to contact Robin for general supplies.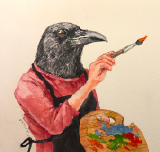 Your Selfie as an Animal—with Robin Poteet (watercolor)
4 classes: Monday–Thursday, June 27–30 • 9:00 a.m.–Noon • $150
What animal do you best relate to? Native American culture calls these totem or spiritual animals…the ones that guide us. You may think of yourself as "a dog person" "a cat person" or feel drawn more to owls, butterflies, wolves or lions! Think about it, and in class we'll create great portraits that are part "us" in our clothing and part animal in our imagination—be they hilarious or serious. This class will be great fun and full of exploration, with technique and design guidance along the way. Robin encourages you to think "large" both in the way you think about yourself, and in your painting size. Use the form at left to contact Robin for more info and supplies.

Summer Classes–July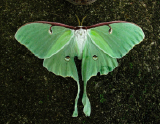 Taking Flight–insects, birds, butterflies and other things that fly—with Robin Poteet (watercolor, plus)
3 classes: Thursday–Saturday, July 14–16 • 9:00 a.m.– Noon • $125
Sometimes great subjects are right under our nose (or in this case, flying around us). Beetles, butterflies, moths, birds, bees… they have fascinating shapes and colors and are often overlooked as painting subjects. We'll pay tribute to this intriguing part of nature—bringing them to life in a series of small "portraits." The transparency of a dragonfly's wings?…the blur of a hummingbird in flight?…the glow of monarch butterfly wings? We'll figure it out as we paint and draw! Robin will bring collage paper, stencils, and bits & bobs. Use the form at left to contact Robin for other supplies for this fun and enlightening class.

Summer Classes–August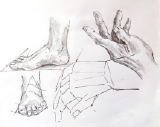 DRAWING: Hands and Feet—with Robin Poteet
1 class: Thursday, August 4 • 9:00 a.m.–12:30 p.m. • $50
I've seen the fear in many a student's eyes when they've needed to include a person's hand or foot in their paintings. Fear no more!…we'll break these down into manageable shape and angle. We'll practice drawing hands and feet as we "see" them rather than how our brain interprets them. We'll look at foreshortening, simplifying, shading, and a host of other things that will let you view these pesky appendages the same as every other shape in your artwork. Suitable for all levels of experience! Use the form at left to contact Robin for supply details.