CONTACT
Robin Poteet
Fall Classes for Adults
Drawing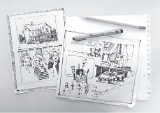 The Power of Sketching—with Robin Poteet THIS CLASS IS FULL
2 classes: Wednesdays, September 1 and 8 • 9:30 a.m.–12:30 p.m. • $75
This class isn't about talent or skill or creating realistic copies of your subjects. It isn't even about creating polished art to display or sell.
IT IS about the joy you'll get from letting your pen or pencil wander around a page, observing, experimenting, and having fun as you "interpret" everyday objects. IT IS about training your eye and mind to recognize shapes and values and the ways they connect with one another. IT IS a great way to expand your creativity, build confidence and gain drawing skills without feeling as though you are having to "work at it."
Bring any size or type of sketchbook to class. Through inspiring exercises, short demos, guidance, insight, techniques and time to explore, you'll begin to develop your personal drawing style. Robin will have an assortment of materials available in class to experiment with. Use form at left to contact Robin for the additional things you'll need.
Watercolor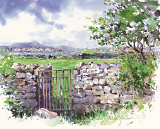 Watercolor Magic!—with Robin Poteet
7 classes: Wednesday Mornings, October 6–November 17 • 9:30 a.m.–12:30 p.m. •$200 THIS CLASS IS FULL—Space is still available in the afternoon class.
Also Offered: Wednesday Afternoons, Same dates, 1:00 p.m.–4:00 p.m. • $200
Watercolor has a magic of its own.. it moves and blends, and it teaches us patience and humility. When we learn to "step away from our paintings" watercolor rewards us with a fresh, effortless look that is difficult to achieve with any other media! Our first 3 weeks focus on guided exercises and provided photos so that we can explore classic techniques—then learn to be more daring and expressive. The remaining 4 weeks, students will work on their own subjects, with Robin's individual attention. Work large or small, detailed or loose. Robin's fall session will be filled with demos, discussions, slideshows and inspiration to help us rekindle our creative spirit! Use form at left to contact Robin if you have questions.