CONTACT
Robin Poteet
Summer Adult Classes
June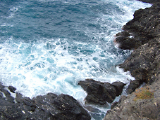 Watercolor–Surf and Turf–with Robin Poteet
2 classes: Friday & Saturday, June 26 and 27 • 9:00 a.m.–2:00 p.m. • $90
Get ready for 2-days of BIG, BOLD, DRAMATIC painting! Working full-sheet (22×30") or close to, we'll capture the power of waves, surf, rocks and cliffs in watercolor. Learn how to mix believable ocean blues, preserve whites, paint a spray of surf against rocks and and how to capture atmosphere and movement. Robin will email reference photos to work from, or you may bring your own. Come ready to have fun and be wild—the ocean is calling! Short lunch break both days.Use form at left to contact Robin upon registration for a supply list and to purchase w/c paper if desired.

July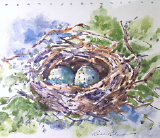 Watercolor–Bootcamp for Beginners!–with Robin Poteet
4 classes: Wednesday, Thursday, Friday, Saturday, July 8–11 • 9:00 a.m.–noon • $140
If you are curious about learning to paint and don't know where to start—start HERE! Watercolor is simple, portable and fun and is a great introduction to painting in general. This introductory class will touch on all of the basics, from materials to color mixing, to water/paint ratio and timing. Robin will demo and lecture, followed by group exercises and plenty of painting time with one-on-one guidance in an atmosphere thats relaxed and fun. Use form at left to contact Robin for a supply list or to purchase a complete kit customized for this class.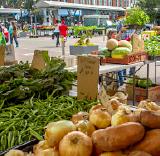 The Roanoke City Market–Sketching and Painting Studies–with Robin Poteet
2 classes: Friday, July 17 • 9 a.m.–11:00 a.m. (meet downtown, in front of Center in the Square) • Saturday, July 18 • 9 a.m.–12:30 p.m. (meet at the Studio School) • $55
The people, buildings, shapes, aromas and colors in Downtown Roanoke can be a treasure trove of inspiration. Using simple sketchbooks and pencils, we'll meet at 9:00am, Friday, July 17 on the city market to practice drawing quick value studies along with photographing things of interest. The following day, Saturday, we'll meet at The Studio School. Robin will talk about subject, contrast, editing and combining shapes and rendering people. Then students will have ample painting time to turn their sketches and photos into a series of small paintings using their choice of media. Use form at left to contact Robin with questions.
August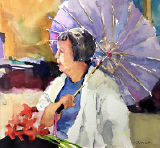 Watercolor–Demystifying Backgrounds–with Robin Poteet
Saturday, August 15 • 9:00 a.m.–1:00 p.m. • $40
We've all done it—painted that beautiful flower or animal and then thought: now, what do I do with the background? Don't let fear or indecision ruin a perfectly good painting! This one-day workshop will give you ways to approach your backgrounds creatively and with confidence. We'll delve into color choices, value, timing, how to connect background and subject, creating texture, managing detail and more. You'll use those skills to create several small paintings in class. Bring your usual watercolor paints, brushes and paper. Robin will email photo references, or you are welcome to bring your own. (This class is suitable for all levels of watercolor painters!). Use form at left to contact Robin with questions.

Fall Classes for Adults
Watercolor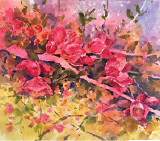 Getting Back in the Flow!–with Robin Poteet • Two 4-week sessions
SESSION 1: Wednesdays, September 9–30
Mornings 9:30—12:30 (FULL) or Afternoons: 1:00pm—4:00 • $120
SESSION 2: Wednesdays, October 7—28 • Mornings 9:30 a.m.—12:30 p.m. (FULL) or Afternoons 1:00 p.m.—4:00 p.m. • $120
$20 discount if you sign up for BOTH SESSIONS (8-weeks) • $220
Realizing that many of us are easing our way back into the public arena, Robin is offering a flexible schedule for fall. Classes are divided into TWO sessions of 4-classes each. Choose the session that interests you most… or sign up for a full 8-weeks! After each demo students will have ample time to paint any subject they'd like with individual assistance from Robin. Robin assures ample safety precautions and will limit each class to a maximum of 10 students. Register early to guarantee your spot!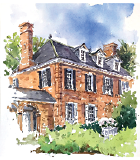 Topics for SESSION 1: (mornings and afternoons)
September 9: Modified pouring of backgrounds
September 16: Creating halos and the glow of candle flames
September 23 and 30: Woodlands and waterfalls—2 weeks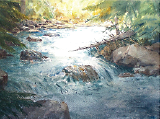 Topics for SESSION 2: (mornings and afternoons)
October 7: Dry Brush Techniques: metal and rust
October 14: Local landscapes (mountains and rural scenes)
October 21 and 28: House Portraits and Neighborhood scenes—2 weeks.
Use form at left to contact Robin with questions.