CONTACT
Robin Poteet
Spring/Summer Classes for Adults
March–April–May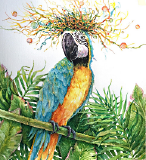 Watercolor Open Studios—with Robin Poteet
5 classes: Wednesdays, April 7–May 5 • Mornings 9:30 a.m.–12:30 p.m. • ALSO OFFERED: Afternoons 1:00 p.m.–4:00 p.m. • $150
Spring has sprung and its a great time to get back into the creative flow! Anyone that has taken a watercolor class before is welcome to join these sessions that include all levels of painters. Robin will begin with a talk or demo and sometimes a group exercise that encourages you to "think outside the box". Afterwards, everyone paints from their own photos, while Robin circulates the room offering help as needed. Informal critiques, problem solving, composition, color—there's so much to discover—all while painting alongside our great community of artists! Use form at left to contact Robin with questions.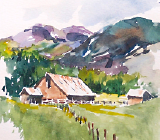 Beginners–Welcome to Watercolor!—with Robin Poteet
4 classes: Fridays, April 30–May 21 • 9:30 a.m.–12:30 p.m. • $200 (includes artist-quality supplies–paints, palette, brushes and paper) • OR Tuition Only: $130 for those bringing their own supplies
Watercolor is portable, easy to manage, and just plain fun! Let Robin help you capture the beautiful translucent quality that watercolor is known for. Through demos, discussion and exercises, you'll gain an understanding of materials, washes, color mixing and brushwork while you complete a finished painting each week. This is a great way to begin or to rekindle your creative journey into art! Use form at left to contact Robin for supply information.

June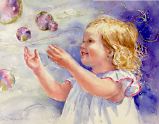 Painting Children in Watercolor—with Robin Poteet
4 classes: Thursday & Friday June 24–25 and Thursday & Friday July 1–2 • 9:00 a.m.–12:30 p.m. • $150
Robin shows you how to capture the magic of childhood in an information-packed class that's also LOTS OF FUN! We'll take it step by step, delving into drawing, proportion, skin tone, shadow, and capturing a likeness. We'll practice things like the "big blur" and the "big scary thing". Plus, we'll explore how to make the best background choices. Bring good-quality photos of grandchildren, nieces, nephews, even historic photos of children, and we'll analyze them to find your best composition. Instruction includes both portrait and full figure. Use form at left to contact Robin for suggested supplies.

July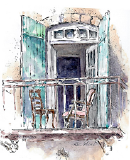 Pen & Ink + a Splash of Watercolor—with Robin Poteet
2 classes: Friday & Saturday, July 16–17 • 9:00 a.m.–noon • $60 (includes photos and handouts)
Draw–Splash–Create! It's that easy when you combine pen & ink & watercolor. We'll start with exercises to loosen up and practice drawing styes—lines, hatch marks, squiggles, and scribbles that can be used in final sketches. Then we'll move on to various subjects… architecture, people, landscape, animals, etcetera. You might choose to leave your pieces in just pen & ink, or paint watercolor on top—Robin will show you how. These are fun pieces that make great gifts, postcards and framed miniature works of art. You'll have time to create multiple pieces, or to focus on a single detailed piece. Use form at left to contact Robin for suggested supplies.

August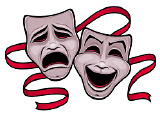 New Life for Old Paintings—with Robin Poteet (all media)
1 class: Thursday, August 19 • 9:00 a.m.–1:00 p.m. • $40 (includes glues and some extra bits and bobs)
Pull out those old paintings that, for whatever reason, didn't turn out—the more, the better! This class will start with group brainstorming and creative thinking, then we'll help each other turn our duds into mini-masterpieces. Greeting cards, boxes, weavings, abstracts, collages, even trading art "parts" with your fellow students are just a few possibilities. Guaranteed Success and lots of fun! Use form at left to contact Robin upon registration for materials to bring.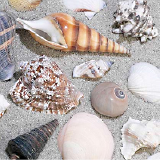 Seashells by the Seashore—with Robin Poteet (watermedia)
3 classes: Wednesday–Friday, August 25, 26, 27 • 9:00 a.m.–noon • $95
We may not be visiting the shore in person this year, but we can certainly enjoy painting the wonders of the sea… shells, starfish, sand dollars, driftwood and bits of coral. We'll start with a focus on drawing and Robin encourages you to paint LARGE! She'll provide several photo choices, or bring your own to class (if you have some actual shells, that's even better)! Robin paints and demos in watercolor, but watermedia students are welcome! As you paint you'll learn about making subtle color shifts, the importance of shading & shadows and how to make wet sand look like—well, wet sand. There's a great benefit to being able to focus on art 3 days in a row. Use form at left to contact Robin for suggested supplies.