CONTACT
Robin Poteet
Winter Classes for Adults
Watercolor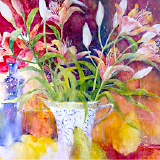 Exploring Surfaces and Techniques—with Robin Poteet
7 classes: Wednesdays, January 6 – February 17 • Mornings 9:30 a.m.–12:30 p.m. • Afternoons 1:00 p.m.–4:00 p.m. • $200
More and more watercolor artists are using nontraditional papers, boards and treated surfaces to create exciting watercolor paintings. In this class we'll use three surfaces—Aquabord, Synthetic Paper and Illustration Board and will practice techniques such as glazing and layering to bring out the best in those surfaces. Students will work from their own subject choices, with demos and individual assistance from Robin. These days, having a creative outlet is more important than ever, so come prepared to splatter, drip, learn new skills and have fun! Use form at left to contact Robin with questions.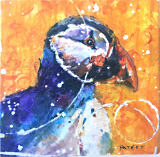 Watercolor and Wax—with Robin Poteet
2 classes: Friday, February 26 and Saturday, February 27 • 9:30 a.m.–1:30 p.m. • $90, includes most supplies
Robin's batik watercolor & wax workshop is perennial favorite! We'll spend two hands-on days using ink, rice paper, paint, wax, an iron (and a few other tricks) to create wonderfully imaginative paintings. You'll wind up with 3 or 4 more pieces mounted on gallery wrap canvas. Robin will have templates you may copy or bring your own subject ideas she'll help you turn them into wild and wonderful works of art. Use form at left to contact Robin for a minimal supply list.