CONTACT
Robin Poteet
Winter Classes for Adults
Drawing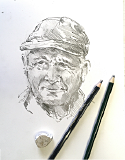 Learn to Draw Expressive Faces in Pencil—with Robin Poteet
3 classes:Thursday, Friday and Saturday, March 10, 11, 12 • 9:30 a.m.–Noon • $130 (includes paper)
Pencil (graphite) is a marvelous way to capture the nuances of a face. It is also forgiving since it's easy to correct and adjust as we draw. Bring photos of your ancestors, grandchildren, or even interesting strangers.You'll learn how to look at their features as shapes and values rather than as "eyes and noses". You'll learn shading techniques, how to soften edges and how to gauge proportions. Robin will provide 2 pieces professional quality paper. Email her for the pencils and other minimal supplies needed.This class is suitable for all levels, but it is helpful for students to have some drawing practice beforehand. Use form at left to contact Robin if you have questions.

Watercolor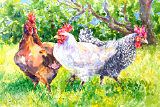 Continuing Watercolor—with Robin Poteet
7 classes: Wednesday, January 12–February 23 • 9:30 a.m.–12:30 p.m.
Also offered afternoons, same dates 1:00 p.m. – 4:00 p.m. • $225
Robin's watercolor sessions are fun, informative and filled with ways to improve your technical skills and your creative thinking. Bring the subjects you'd like to paint and learn to edit out clutter in your photographs, be daring with color, turn any subject into a great painting, improve brushwork, create whites without using white paint… and on and on! Our sessions are filled with demos, discussions, group exercises, and plenty of painting time with individual attention as Robin circulates the room. This class is geared for those with general watercolor experience and beyond. Use form at left to contact Robin if you have questions.