CONTACT
Robin Poteet
Fall Adult Classes
Watercolor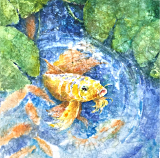 Watercolor With Confidence!—with Robin Poteet
8 classes: Wednesdays, September 13 – November 8 (No class October 11) • Morning class: 9:30 a.m.–12:30 p.m. • Afternoon class: 1:00 p.m.–4:00 p.m. • $250
When we feel confident about our painting process it shows—in our brushwork, in our value and color choices and in the way we portray depth and atmosphere. Confidence makes the painting process more FUN and more expressive and Robin will show you ways to develop that "just go for it" attitude. Along with instruction on watercolor technique, this class will be filled with demos, group exercises and "imagination stretchers". On occasion, photos will be provided, but there is always ample time to paint from your own subjects. Use form at left to contact Robin with questions.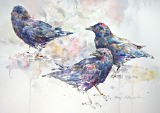 Red, Yellow, Blue—THAT'S IT!—with Robin Poteet This class is full
1 day class: Wednesday, December 6 • 9:30 a.m.–2:00 p.m. • $75
In theory, we can create just about every color by using just the three primary colors—Red,Yellow and Blue. The catch is choosing the "right combinations" or hues of those three colors to achieve the outcome you want. That's exactly what we'll explore in this eyeopening class! Through a combination of Robin's provided photos and your own subjects, you'll practice using a limited palette to create a number of small paintings that are amazingly diverse, yet unified. Use form at left to contact Robin with questions.