CONTACT
Vera Dickerson
Fall Adult Classes
Watermedia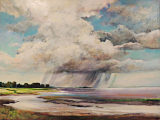 Develop an Artist's Backbone–Experimental Watermedia—with Vera Dickerson
8 classes: Tuesdays, September 19–November 8 (No class October 16) • Same classes: Thursdays, September 21–November 10 (No class October 18) • 1:00 p.m.–4:00 p.m. • (Same time for both classes) • $260
Composition is the structure that holds a painting together and directs the viewer's eye to become involved in our creation. The class will focus on "how" we organize and gently nudge taking steps out of the comfort zone of one's usual way of painting. Subject matter is individual choice. Acrylics and other water media. Demos and critiques. Use form at left to contact Vera with questions.