CONTACT
Vera Dickerson
Fall Classes for Adults
Watermedia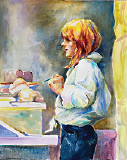 Express Your Personal Vision—with Vera Dickerson
8 classes: Tuesdays, September 28–November 16 • 1:00 p.m.–4:00 p.m. • $275 THIS CLASS IS FULL
Same class Thursdays, September 30–November 18 • 1:00 p.m.–4:00 p.m. • $275
People say they want a "style". That is the essence of who we are, how we see and how we translate our vision into paint. It is developed by practicing our craft. We will look at a variety of contemporary artists, their choices, exaggerations, eliminations and what results, so that each of us has a better understanding of the artistic self. This is an opportunity to add to your knowledge of contemporary art, experiment in a supportive environment and grow in your own work. Subject matter your choice…acrylics and other water media. Demos and Critiques. Use form at left to contact Vera with questions.