CONTACT
Vera Dickerson
Winter Classes for Adults
Watermedia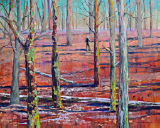 Clear Air and Winter Light—with Vera Dickerson
7 classes: Tuesdays OR same class Thursdays
Tuesday Classes 1:00 p.m.–4 p.m., January 18–March 1 TUESDAY CLASS IS FULL • Thursday Classes: 1:00 p.m.–4 p.m., January 20–March 3 • $250
Winter can bring clear air, sharp contrasts, strong light and dark of the landscape and a quietness that soothes in its stillness.The change of seasons is captured in color, value and atmosphere.We will look at some examples and then translate into our personal choices for painting.While we think of landscapes, this mood can also be translated to figure, still life and abstraction.Watermedia class. Demos and critiques. Use form at left to contact Vera for a supply list.