2022 Summer Workshop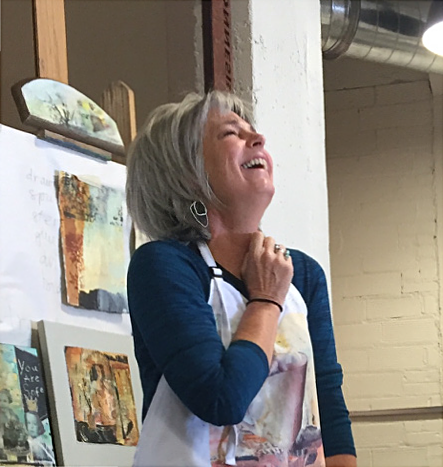 Contemporary Approaches
for Self Expression
with Joan Fullerton
May 24—27, 2022 • $450
Paint as you like and live happy! Dancing with the unknown, exploring inner and outer worlds, laughing and playing, learning to deal with self-doubt and the frustrations of the creative process…expressing yourself and discovering your unique voice…it's challenging, and it's oh so fun!
Easel Society members will be able to register beginning in December, 2021 and all others can register starting in January, 2022.
Registration with a $200 deposit payable to The Studio School is sent to:
Jane Winders Frank
3040 McVitty Forest Dr.
Unit 207
Roanoke, VA, 24018
With the balance ($250) due in April, 2022. Inquiries to Jane at papermker@aol.com.
"This short clip shows the fun of paint on collage. Students sometimes gasp when I put bold darks into the composition…check out the drama! A Xerox of the Rio Grande Bridge outside of Taos, NM, is part of the collaged material, hence the title Bridging Worlds."—Joan Fullerton