CONTACT
Gina Louthian-Stanley
Winter Adult Classes
Mixed Media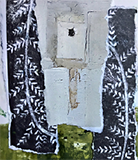 Compositional Strategies and the Elements of Art (Open Studio)—with Gina Louthian-Stanley
6 classes: Thursdays, February 1–March 7 • 9:30 a.m.–Noon • $225
Don't know where to begin? Learn the basics of Composition and the Elements of Art using varied techniques and exercises to strengthen the 'Artists Eye' using various mediums. Come learn the basics, explore your creative voice and develop your own visual language. We will also be critiquing famous works of art that relate to the elements. Great for starting your creative journey or add to your current toolbox. Please email Gina to let her know you registered, a materials list supplied upon registration. Use the form at left to contact Gina to let her know you registered and ask questions, a materials list supplied upon registration. (Gina will share a few supplies each week.)

Painting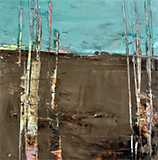 Cold Wax and Oil—with Gina Louthian-Stanley
2 days: February 10–11 • 10:00 a.m.–3:00 p.m. • $295
Discover the beautiful layers, textures, and marks that only oil and cold wax can achieve finding inspiration within your own marks, compositions and intuition. We will explore various techniques such as working methods, substrates, drying times, opaque and transparent color, pigments and powders, blending, color schemes, glazing, solvent reduction, transfer and printmaking techniques, creating textures, adding collage and more. Plenty of demos and individual discussions, and advanced techniques for prior participants. All skill levels would benefit from this class, especially beginners. Gina will provide cold wax, a plethora of tools, and R&F pigment sticks for class use, samples of Arches Oil paper. Use the form at left to contact Gina prior to class for the full materials list.