CONTACT
Robin Poteet
Winter Adult Classes
Watercolor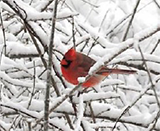 Watercolor in Winter: any color but drab!—with Robin Poteet
6 classes: Wednesdays, January 10–February 21 (No class February 7) • Morning Session: 9:30 a.m.–12:30 p.m. • Afternoon Session: 1:00 p.m.–4:00 p.m. • $200
These may be the gray months of winter, but Robin's 6-week session will be alive with color and inspiration! You'll learn how to paint lively winters scenes with a hints of mauve, purple and gold, how to paint footprints in the snow, how to paint snowfall and how to paint snow-laden branches. You'll learn to create ambiance through painting snowy evenings with candlelit interiors and glowing fireplaces. Robin provides photos for those that want to paint along, but students are always welcome to paint their own subjects. Use the form at left to contact Robin for suggested supplies.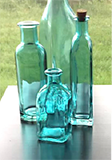 Painting Glass—with Robin Poteet
2 classes: Friday & Saturday, March 8–9 • 9:30 a.m.–12:30 p.m. • $85
So, how does one go about capturing the transparency, reflection and nuance of glass?… find out in this two day class! Robin will supply one or two photos of glass for everyone to work from, plus there will be actual glass objects on your work tables for first hand study. We'll explore the myriad of shapes in reflections, how light fractures surfaces and how we can use color to enliven what we perceive as gray. This is a great springboard for still life paintings. Use the form at left to contact Robin with questions.