CONTACT
Vera Dickerson
Winter Adult Classes
Watermedia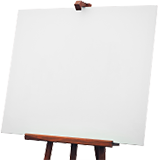 Recycle And Gain A Superior Canvas—with Vera Dickerson
2 classes: Thursdays, January 4–11 • 9:30 a.m.–Noon • $70
Winter is a time to be productive in the studio, and here is a great opportunity to use wonderful custom hand built wooden braced stretchers with unprimed cotton duck, and learn how to stretch your own canvases. If you have priced stretched canvases larger than 36 inches, you know they are expensive. The smallest of these I have is 24" x 42". Each artist will receive a stretcher, (variety of sizes, but all rectangular ) and canvas cut to fit. These come with good karma, from the artist who donated them. Bring a house trim brush, white gesso and a staple gun, extra staples. First class is stretching and priming, followed by time to develop your image. Limited to 10 people. Supply fee to Vera–$40 cash or check. Use the form at left to contact Vera with questions.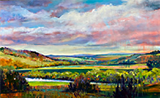 Experimental Water Media—with Vera Dickerson
8 classes: Tuesdays, January 9–February 27 • Same classes: Thursdays, January 11–February 29 • 1:00 p.m.–4:00 p.m. (Same time for both classes) • $260
Let's make Winter a time to focus and paint! If you take the Thursday morning short class with prep of a large canvas, use that surface. If not, plan to work larger than your usual size range. We will discuss how to make a large area visually entertaining, how the energy of strokes, value contrasts and color choices can involve the viewer and strengthen your painting. Acrylics the primary medium, although you may add collage, stamping and other elements. Demos and critiques. Use the form at left to contact Vera with questions.