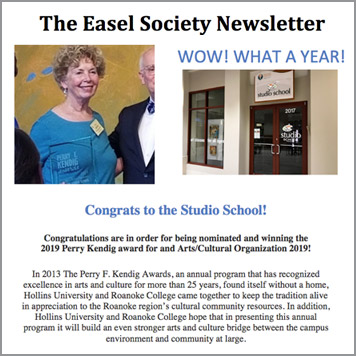 Click Here to read the Easel Society Newsletter Winter 2019
We hope you enjoy the Easel Society Newsletter. In 2019, we added several guest artists and we were able to offer many new creative opportunities. We hope you will enjoy what we have planned for 2020! A heartfelt than you to all of you who have helped support the Studio School, by volunteering or donating to the school store. Without you, many of these opportunities would not happen.
One of the biggest highlights was winning the Perry Kendig award. This year the Studio School stood out in the Arts Community. Again, thank you!
May 2020 be full of creativity!