Blog
Welcome to our Blog, it's a great way to keep up with events and other items of interest.
February 15th was indeed an amazing day! The Studio School oped its doors to host a brunch for the amazing artists that come together to create at the Studio School. Art is good for the HEART! Here's just one of the comments that were a reflections of the day:
"Thank you all for the delightful brunch.  The food was delicious and it was great visiting with old and new friends. The Studio School has been and continues to be a very important part of my life.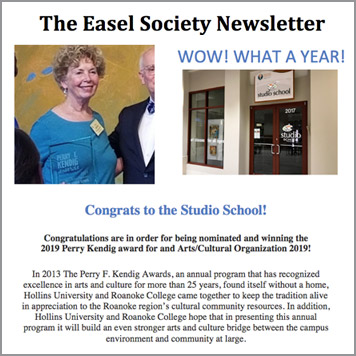 Click Here to read the Easel Society Newsletter Winter 2019
We hope you enjoy the Easel Society Newsletter. In 2019, we added several guest artists and we were able to offer many new creative opportunities. We hope you will enjoy what we have planned for 2020! A heartfelt than you to all of you who have helped support the Studio School, by volunteering or donating to the school store. Without you, many of these opportunities would not happen.
One of the biggest highlights was winning the Perry Kendig award. This year the Studio School stood out in the Arts Community. Again, thank you!
May 2020 be full of creativity!
Logan Gallery at North Cross hosts The Studio School Exhibit!
Open November 5th through January 28th 2020.
STUDIO SCHOOL SUMMER WORKSHOP with JOAN FULLERTON


Colorado artist Joan Fullerton returns to our school for another workshop. She is a talented, dynamic, and entertaining teacher. The title of this workshop is Intuitive Acrylic and Mixed Media.
Easel Society members will be able to register on Dec. 1. Other students begin registration on Jan.1, 2020. A deposit of $200 holds your place; the balance of $220 is due in April. If you decide not to participate, after paying your deposit, you are responsible for finding a replacement. Then your deposit will be refunded. We usually have a waiting list to draw on.
Hope you will join us for this special workshop experience. Remember that our summer workshops are our major fundraiser for the school.
Please mail entries to:
Jane Winders Frank
3040 McVitty Forest Dr., #207
Roanoke, VA 24018

Make checks payable to The Studio School.
On a separate piece of paper include:
Your name
email address
phone number
This is very important for communicating workshop info to you for the Joan Fullerton Workshop at the Studio School.

Thanks,
Jane
Congrats to the Studio School for being nominated for the 2019 Perry Kendig ward for and Arts/Cultural Organization 2019!
Well deserved!!!!
Here is a brief history of the award.
In 2013 The Perry F. Kendig Awards, an annual program that has recognized excellence in arts and culture for more than 25 years, found itself without a home, Hollins University and Roanoke College came together to keep the tradition alive in appreciation to the Roanoke region's cultural community resources. In addition, Hollins University and Roanoke College hope that in presenting this annual program it will build an even stronger arts and culture bridge between the campus environment and community at large.
History
The late Perry F. Kendig served as president of Roanoke College and was an avid supporter and patron of the arts. Since 1985, The Perry F. Kendig Awards program has recognized exemplary individuals, businesses and organizations that support excellence in the arts. In addition, these awards have served as an important advocacy program for the community to realize and appreciate the vital role arts and culture play in economic development and education in our schools, while providing a focal point for celebrating and strengthening the Roanoke region's cultural identity.
The Perry F. Kendig Arts and Culture Awards program strives to: Showcase the quality and diversity of artistic excellence throughout the greater Roanoke region, Recognize outstanding support of arts and culture, and celebrate exemplary arts and cultural organizations.
Award Categories
One award will be presented in each category only (for a total of three (3) awards).
Individual Artist (of all disciplines – dance, literature, music, media arts, visual arts and theatre)
Arts and/or Cultural Organization
Individual or Business Arts Supporter
Please see the FAQ section for more information on the nomination process.
*Roanoke Regional Chamber defines the Roanoke region as the counties of Botetourt, Franklin, and Roanoke, and the cities of Salem, Roanoke and the Town of Vinton.
And the Trees Began to Dance, watermedia, was accepted in The Central Virginia Watercolor Guild exhibition at The McGuffey Center in Charlottesville, VA. The show is up during Sept.
Jane Frank has 2 pieces in The Society of Layerists in Multi Media exhibition, Do You See the Arch? in St. Louis, Missouri.
Angels Under the Arches, mixed media  


Enshrined, mixed media