Blog
Welcome to our Blog, it's a great way to keep up with events and other items of interest.
Art Happens!
While we are all social distancing, art is happening!
I know most instructors are finding ways to teach online! Hope you will consider looking into an online class.
If there is something you are interested in, just let us know!
Be sure to email or contact the instructor of choice for info!
ALSO, KUDOS to
Jane Frank and Gina Louthian-Stanley for bein lurid into The Academy Center of the Arts 2020 National Juried Art Exhibition in Lynchburg!
Good Luck!!!!
Jane Frank's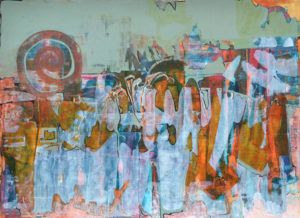 Ghost Images, watermedia, 36″ X 28″
Gina Louthian-Stanley's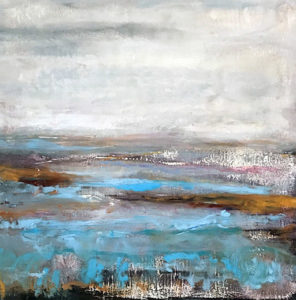 Marsh Mist 12″ x 12″
The safety and well-being of The Studio School's students, faculty and the community at large are of top priority as we make plans for Summer classes.
In view of the worsening COVID-19 crisis and the president's declaration of a national emergency, we might have to make difficult decisions over the next few months involving our Summer classes and workshop. As classes do not start until June, we are hoping for the best and that we can go ahead as planned. However, we will reassess as time passes to do our part as we adhere to the guidelines set forth by the CDC and The Virginia Department of Health. Changes might become necessary as guidance continues to be updated. We will keep you posted on our website of any changes regarding the school.
We encourage you to reserve your space in one of our exciting Summer classes. Please rest assured that in the event it becomes necessary to cancel classes, refunds will be promptly issued.
Please feel free to contact any instructor by email if you have any questions or concerns.
We look forward to seeing you in the better days ahead and wish you all the best!
Stay healthy and keep painting!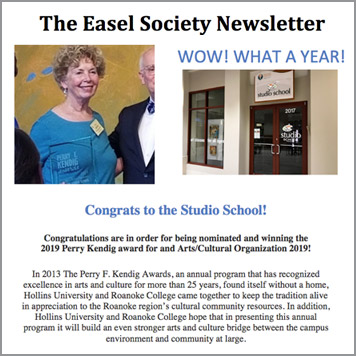 Click Here to read the Easel Society Newsletter Winter 2019
We hope you enjoy the Easel Society Newsletter. In 2019, we added several guest artists and we were able to offer many new creative opportunities. We hope you will enjoy what we have planned for 2020! A heartfelt than you to all of you who have helped support the Studio School, by volunteering or donating to the school store. Without you, many of these opportunities would not happen.
One of the biggest highlights was winning the Perry Kendig award. This year the Studio School stood out in the Arts Community. Again, thank you!
May 2020 be full of creativity!